De Soto — De Soto High football coach Brad Scott knew his squad's showdown with Eudora could go one of two ways: The Wildcats could get whipped or could give their fans and themselves a night to remember.
They chose the latter, and as a result they beat Eudora for the first time in more than a decade, 12-7, Friday night at DHS and earned a share of their first Frontier League championship.
"I thought if we played well it would be a very good football game, but if we played the way we played last week, I figured they'd probably beat us pretty bad," Scott said, referencing De Soto's 10-7 overtime loss at Anderson County.
"We really preached that all week and said we've got to come out and play the way we did the first four, and kind of forget last week and come out and give 'em a ballgame.
"They're one of those measuring sticks for us. To come out here and play that way and win a game that close, I couldn't think of a better way for this senior class to go out than as league champs."
The Wildcats racked up 301 yards of total offense, held the high-scoring Cardinals to just 194 yards and seven points, and made every timely play necessary to hold off Eudora.
Quarterback Neil Erisman was the go-to guy all night as he ran for 194 yards, added 48 yards through the air, and made two critical interceptions from the safety position late in the game that ended Eudora's hopes of a last-second victory.
"I told our kids going into the game, that was the kid that could beat us, and he did," Eudora coach Greg Webb said. "We had to force him to give it up, and we didn't. But that's what good players do."
De Soto (5-1) had 185 yards of offense by halftime, but turnovers plagued it dearly. It gave up the ball three times in the half, including twice in the red zone.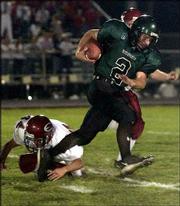 DHS fumbled on the third play of the game and gave Eudora the ball on the De Soto 18-yard line. A holding penalty backed up the Cardinals, however, and they punted, sticking De Soto on its own one-yard line.
With their backs to the goalline, Erisman guided the Wildcats on a 99-yard scoring drive that was capped by his 11-yard touchdown pass to Danny Doherty as time expired in the first quarter.
The 6-0 lead stood through halftime because Eudora was unable to counter with its aggressive rushing attack. The Cardinals picked up just two first downs in the first half and had only 55 yards of total offense, mostly on runs by Luke Abel.
"Looking on the board, the X's and O's, seeing what we'd be going against, coming into the game I really thought we could run the ball," Webb said.
The De Soto defense held strong for all but one drive, Eudora's first of the second half. It went 56 yards in six plays and Brendan Jackson scored from 1-yard out to put EHS on top 7-6. The very next drive, De Soto fired back with a 62-yard drive that was capped by Tyler Farmer's nine-yard scoring run.
Eudora (4-2) tried to recapture the lead, but Erisman picked off passes on its last two possessions -- including one on the final play of the game inside the five-yard-line that sealed the win and the league title.
"We've been talking about hanging our first banner," Scott said. "Nobody can take it away. We get that first banner and those seniors get to come back 20 years from now and say hey, that's the banner I put up there and all the hard work I did."
Copyright 2018 The Lawrence Journal-World. All rights reserved. This material may not be published, broadcast, rewritten or redistributed. We strive to uphold our values for every story published.