A national shortage of flu vaccine has pulled the plug on several Lawrence-area clinics and a mass immunization drill across Kansas, and left healthy Kansans hoping they can avoid the flu despite not getting a shot this year.
A day after the U.S. supply of flu vaccine was abruptly cut in half by problems at a British plant, health officials across the state were scrambling Wednesday to ensure those most at risk would have access to the vaccine.
"We hope that the public understands these changes are necessary to address the needs of those individuals who are in the priority groups," said Kay Kent, director of the Lawrence-Douglas County Health Department.
Among the immediate impacts:
A free Douglas County flu immunization event intended to draw thousands of people to test health workers' preparedness for bioterrorism or a major epidemic will be scaled down.
Health departments had scheduled 12 such clinics in 10 counties this month. As of Wednesday, five clinics -- one each in Geary, Lyon, Osborne, Pratt and Reno counties -- had been canceled.
As in Douglas County, officials in Saline, Seward and Shawnee counties were considering their options, said Sharon Watson, spokeswoman for the Kansas Department of Health and Environment.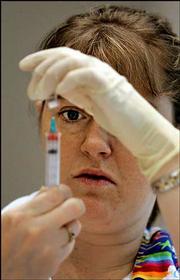 All other Douglas County immunization clinics were canceled.
Lawrence physicians were seeking out high-risk patients to make sure they were vaccinated.
Members of Congress began efforts to reintroduce the Influenza Vaccine Emergency Act, legislation that could strengthen the authority of the secretary of health and human services and related agencies to address a flu vaccine emergency.
U.S. Rep. Dennis Moore, D-Kan., said he intended to sign on and sponsor the act.
"This could be a horrible problem for our country," Moore said. "I get a flu shot every year, and I think most people do."
Kent said healthy people would need to forgo a shot this year.
"We're going to have a limited supply of vaccine, and we have a limited supply of vaccine in the state and in the country, and that's just the situation that we're in," she said.
The changes are a result of news Tuesday that the British government shut down vaccine maker Chiron Corp. after problems were detected at its plant where about 46 million doses of vaccine for the United States had been made.
Kansas inventory
Watson said state health officials were gathering an inventory of all doses of vaccine already shipped to Kansas. However, she said the task would be difficult because private entities such as grocery stores and businesses order doses of the vaccine to distribute to customers and employees.
The department planned to provide 20,000 doses of the vaccine for this month's mass vaccination clinics, while Saline County had set aside 5,000 doses for its clinic and Shawnee County, 8,000 doses.
The Lawrence-Douglas County Health Department received a partial shipment of the 6,800 adult doses of flu vaccinations originally expected. Kent said the agency had more than 1,000 doses, which would be used in the so-called Flu-X mass-vaccination exercise scheduled for Oct. 23 at Free State High School.
Under the scaled-down plan, only people in priority groups designated by the U.S. Centers for Disease Control and Prevention will get the shot, and they will be required to pay for it. The charge for the vaccine will be $12 for children from 6 to 23 months old and $17 for others. Priority groups include the elderly, infirm and young children.
Not knowing if or when the Health Department will receive the rest of its vaccine, Kent said all other clinics also had been canceled.
"I would encourage anyone who falls into one of these priority groups to come to Free State High School on Oct. 23," she said.
The shortage of flu vaccinations has the Centers for Disease Control and Prevention recommending only people most at-risk get flu shots this season.The priority groups:¢ Children ages 6 to 23 months.¢ Adults 65 and older.¢ People with chronic medical conditions, including asthma, diabetes and heart disease.¢ Children 6 months to 18 years old on chronic aspirin therapy.¢ Health care workers with direct patient care.¢ Out-of-home caregivers and household contacts of children younger than 6 months old.
Local coordination
Efforts to coordinate with other health-care providers, such as Lawrence Memorial Hospital and private physicians, were beginning Wednesday to ensure those considered most vulnerable would receive a vaccination, Kent said.
Anna Deslauriers, an employee with Lawrence Family Practice Center, said county health officials had checked in with her office. And the center had been receiving more calls from patients asking about flu vaccinations and who should get them.
The center had 80 doses Wednesday morning, but just 30 remained by Wednesday afternoon, Deslauriers said. Doctors were reserving some for patients in the CDC's priority groups.
"We've also tried to contact some of our highest-risk patients to schedule them," Deslauriers said.
Janet Wehrle, infection control practitioner at Lawrence Memorial Hospital, said the hospital had 1,000 doses of vaccine, the bulk of which would be used to vaccinate health workers in direct contact with patients, hospitalized patients and employees falling into other priority groups outlined by CDC.
"We'll work with the Health Department to make sure the community needs are being met," Wehrle said. "The goal is to vaccinate people in the community at high risk."
During the last flu season from September 2003 to May 2004, 1,714 Kansans died of the flu and pneumonia-related diseases.
A similar shortage occurred last December, prompting the CDC to restrict vaccinations. In four of the past five years, Kent said, the United States has had to deal with some sort of flu vaccination shortage.
Production issues
Part of the problem for the repeated shortages, officials have said, is that only two companies make the vaccine.
So why are so few companies making a vaccine that seems to have a strong market?
"It's very difficult to do, and you don't make a whole lot of money off of it," said Russ Middaugh, a pharmaceutical chemistry professor at Kansas University. "And, anybody who makes vaccines always has to be concerned about liability issues. Those liability issues chased most manufacturers out of the business altogether so there are just a few that remain."
But Middaugh said some smaller companies were now interested in making a flu vaccine. Those companies could have vaccines on the market in about five years.
But he also noted that FluMist came out last year and it didn't sell well because of its cost.
"It was pretty efficacious -- probably more efficacious than the normal flu vaccine," Middaugh said.
Copyright 2018 The Lawrence Journal-World. All rights reserved. This material may not be published, broadcast, rewritten or redistributed. We strive to uphold our values for every story published.