Kansas University's volleyball team didn't snap its losing skid or end its streak of defeats against in-state rival Kansas State on Wednesday night at Horejsi Center, but the Jayhawks might have rediscovered their soul.
In what was without a doubt one of the most thrilling matches in the KU arena's six-year history, 16th-ranked Kansas State squeaked out a 3-2 (30-19, 23-30, 30-25, 22-30, 15-12) victory, its 19th straight victory against KU. It was only the fourth time during that span that a match had gone to five games.
Kansas (10-5 overall, 1-5 Big 12 Conference) dropped its fourth straight match, but delivered arguably its best effort of the season at a time when the Jayhawks desperately needed a reason to believe they still could make a run at another NCAA Tournament berth.
"Our team has been struggling lately, and we haven't had the fight that we had tonight," said KU senior middle blocker Ashley Michaels, who had a career-high 24 kills. "So even though we had a loss tonight, it's bittersweet because we got back what we've been looking for, but we didn't come out with a win."
Josi Lima had 18 kills for Kansas, while Jana Correa had 17, and Paula Caten added 10. Jill Dorsey posted a match-high 24 digs. Andi Rozum added 69 assists, eight digs, six kills and two aces. Vali Hejjas led KSU with 19 kills.
During the past two weeks the Jayhawks were swept at home by ranked foes Texas and Nebraska and thumped on the road by Baylor. They lacked energy, intensity and emotion in all three matches and dropped near the bottom of the league standings. When opponents hit, the Jayhawks never seemed to hit back.
That hardly was the case Wednesday, however, as Kansas matched K-State's high intensity all night, had the standing-room-only crowd at Horejsi Center roaring at a fever pitch and had the Wildcats (11-4, 5-1) on their heels most of the evening.
"It was good volleyball played on both sides of the net," KSU coach Suzie Fritz said. "An electrifying crowd. It was tremendous -- a great atmosphere, and the girls really loved it on both sides."
K-State drew blood first as it opened game one on a 5-1 run. Its hitters sizzled and combined for a .500 hitting percentage that was anchored by five kills from junior Agata Rezende. KU never led, but it pulled within two on numerous occasions before the Wildcats closed on a 7-1 run.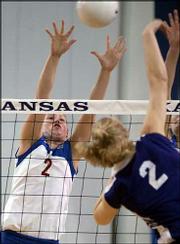 The Jayhawks were riled up at the beginning of game two and burst to a 15-10 lead. Michaels, Caten, Lima and Correa seemingly pounded kills at will. After a timeout, however, KSU took the lead with a 7-1 run and later led 21-19 after a flurry of blocks and a pair of kills by setter Gabby Guerre. That's when the Jayhawks slugged back. They closed with an 11-2 explosion that included a pair of blocks by Lima and an ace by Rozum. Correa's kill off an errant K-State dig evened the match at a game apiece.
K-State refocused during intermission and opened game three on a 14-6 run. KU gradually crept closer but never quite caught up. Then game four was the Jayhawks' turn to dominate. Michaels, Lima, Caten and Correa thundered more kills and KU won all the hustle points with scrappy play from Emily Brown, Jill Dorsey and Dani Wittman.
"Coach always said we needed to play with efficiency, enthusiasm and energy -- the three E's," said Wittman, a reserve from Salina who had a career-high five digs in her most extensive playing time as a Jayhawk. "We definitely came out tonight and played with that. We had to be efficient and we had to show what we can put on the floor every night, and therefore we played with K-State."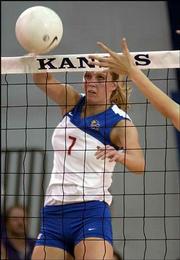 The crowd was deafening throughout game five, and both squads fed off the rock concert atmosphere. Correa hammered three kills and was matched shot for shot by Hejjas. The game was notched at 10-all before K-State scored three straight points and finally put the Jayhawks at bay.
"I saw a great effort out of our team tonight," KU coach Ray Bechard said. "I told them, as disappointed as they are, I thought we took a big step forward tonight. How do you say that after you lose to an in-state rival in five games? But we did, and sometimes you learn those lessons different ways.
"Tonight we had some kids that weren't as healthy as they could've been, but fought like crazy. I'm really proud of them. It was a great volleyball match. I wish obviously the ending result would've been a little different, but I can't think that a fan would leave here tonight disappointed in what they saw."
The Jayhawks next play at 8 p.m. Saturday at Colorado.
Copyright 2018 The Lawrence Journal-World. All rights reserved. This material may not be published, broadcast, rewritten or redistributed. We strive to uphold our values for every story published.