Pittsburgh — Long gone are the days when Halloween costumes were cobbled together with old clothes, sheets or a costume-and-mask combination from a discount store.
While kids have always wanted costumes reflecting popular culture figures, parents are likely to spend considerably more money nowadays than in the past.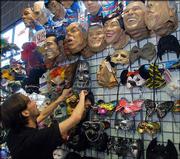 Want to look like Spiderman? It could cost you from around $17 at Kmart to up to $70 at specialty retailer Costume World, which has stores in Pittsburgh, Deerfield Beach, Fla., and Dallas.
The pricey Spidey comes with built-in muscles and nicer materials.
"When it comes to children's costumes, parents are more time-strapped than ever before so it's easier to buy one than it is to make one or piece something together," said Ellen Tolley, a spokeswoman for the National Retail Federation, which tracks Halloween spending.
"Parents know that Halloween is one day out of the year where parents can encourage their children to be something they're not," Tolley said. "They can let their children be a princess or be a fireman for a day."
Or longer.
"Kids live in costumes today," said Jamie Smith, manager of Costume World's Pittsburgh location.
Many children sleep and play make-believe in their costumes, he said, adding that recently, one little girl wore her princess outfit out of the store.
Spiderman is this year's top costume, according to the National Retail Federation, but traditional favorite costumes like witches, ghosts and monsters point to Halloween's pagan roots.
The National Retail Federation estimates that the average costume-buyer will spend about $28 this year. That includes spending on less costly costume accessories such as makeup, Tolley said.
Copyright 2018 The Associated Press. All rights reserved. This material may not be published, broadcast, rewritten or redistributed. We strive to uphold our values for every story published.