Mojave, Calif. — A stout, star-spangled rocket plane broke through the Earth's atmosphere to the edge of space Monday for the second time in five days, capturing a $10 million prize aimed at opening the final frontier to tourists.
The privately built SpaceShipOne took off underneath the belly of a mother plane that carried it about nine miles over the Mojave Desert. From there, SpaceShipOne fired its engine and streaked skyward at about three times the speed of sound on a half-hour flight that took it more than 62 miles high, generally considered the point where space begins.
SpaceShipOne -- with test pilot Brian Binnie at the controls -- then glided safely back to Earth.
The reward for the achievement is the $10 million Ansari X Prize, created in 1996 to kick-start the development of privately built rocket ships that could make spaceflight available to the public.
To win the prize, a spacecraft capable of carrying three people had to make two flights to an altitude just over 62 miles within two weeks. The goal was to show that the rocket could go back and forth like a spaceliner.
During the post-flight news conference, SpaceShipOne designer Burt Rutan took a few shots at the traditional aerospace community.
"The big guys, the Boeings, the Lockheeds and the naysaying people at Houston ... I think they are looking at each other now and saying, 'We're screwed,"' he said.
Microsoft co-founder Paul Allen, who put more than $20 million into the project, watched Monday's flight from the control room.
The total cost of the project has not been released, but Rutan jokingly noted to Allen on Monday that the $10 million prize covered 40 percent of Allen's costs. That would make Allen's investment $25 million.
The prize money will be spread among the employees of Rutan's company, Scaled Composites. The crew includes Douglas Shane, who graduated from KU in 1982 with a degree in aerospace engineering. He is vice president of business development, director of flight operations and test pilot for Scaled Composites.
Last week, Richard Branson, the British airline mogul and adventurer, announced that beginning in 2007, he will offer paying customers flights into space. Fares will start at more than $200,000.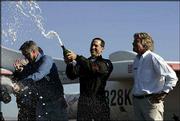 Copyright 2018 The Lawrence Journal-World. All rights reserved. This material may not be published, broadcast, rewritten or redistributed. We strive to uphold our values for every story published.