A Kansas State University English professor walked into a Douglas County courtroom in shackles Monday after being charged with murdering his ex-wife last year at her home north of Lawrence.
"This is State v. Thomas E. Murray," District Court Judge Robert Fairchild said, opening a first-degree murder case that police have been building since they found Carmin D. Ross, 40, slain Nov. 14, 2003, inside her home at 1860 East 1150 Road.
With Douglas County Sheriff's deputies standing by, Riley County Police served an arrest warrant for Murray about 8:45 a.m. Monday in a traffic stop four blocks from the Manhattan school where he had just dropped off his and Ross' kindergarten-aged daughter, Ciara Ross-Murray.
The news came as a relief to Ross' parents, Danny and Judi Ross of Lapel, Ind., who months ago began publicly expressing their suspicions of Murray. Carmin Ross and Murray were in a custody dispute at the time of Ross' slaying, and since the death Ciara had been living with Murray in Manhattan.
On Monday afternoon, the girl was with the Rosses.
"They are very pleased that there's been an arrest," said attorney Terrence J. Campbell, who is representing the Rosses. "Their primary concern is for the little girl."
Suspect 'devastated'
Carmin Ross was an attorney, conflict mediator and peace advocate who moved to Lawrence from Manhattan in August 2003 after divorcing Murray. She was studying an alternative-healing technique called "Consegrity."
The warrant for Murray's arrest was issued Thursday, but police had been waiting for the right moment to confront him out of concern for others' safety, Kenney said. Riley County Police said they arrested Murray after the school drop-off so his daughter wouldn't witness it.
He was booked into the Douglas County Jail with bond set at $1 million, and deputies brought him to the Judicial & Law Enforcement Center, 111 E. 11th St., for a 3 p.m. first appearance.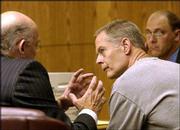 Murray, 48, shuffled into the courtroom, his hands free but legs restrained, wearing street clothes instead of the usual jail jumpsuit. He remained silent during the 15-minute hearing, and his retained attorney, Pedro Irigonegaray of Topeka, waived a formal reading of the murder charge.
If convicted of premeditated first-degree murder, Murray faces a life sentence with no parole eligibility for 25 years.
Irigonegaray said Murray was "devastated" by the arrest and said his daughter was the first subject he asked about when they spoke. Irigonegaray called the bond excessively high and asked Fairchild to reduce it to $100,000 based on Murray's desire to see his daughter, his long history in Kansas and his lack of criminal record.
Douglas County Dist. Atty. Christine Kenney told Fairchild her office would ask that if Murray makes bond, he be ordered not to have contact with any of the nearly 350 witnesses in the case, including his daughter.
Fairchild didn't set a new bond Monday. Instead, he scheduled a special bond hearing for Thursday afternoon.
S&M; scholar
The formal charge against Murray alleges Ross' death happened "on or about" Nov. 13. Police found her the next day, after her fiance in California reported he hadn't been able to get in touch with her.
Detectives searched Murray's home in Manhattan, but officials later said he wasn't a suspect. This summer, in an angry letter filed in a civil case related to the death, Ross' father accused Murray of being "manipulative and controlling." The letter said Murray had a motive to kill Carmin Ross because he blamed her for ruining his life by leaving him.
Murray is a linguistics scholar who, while living in Ohio in 1989, co-wrote "The Language of Sadomasochism," an explicitly termed glossary of about 800 terms used by people who take part in sexual sadomasochism.
Tom Murrell, the book's co-author, said that as far as he knew, Murray never had a personal interest in sadomasochism. Murrell was a student of Murray's at Ohio State University and said he first brought the subject to Murray's attention after Murray gave a lecture about coded language.
Murray later suggested compiling a book, he said.
"If I had to testify I would say that he had no interest in that. It was me who had the interest in that," Murrell said. "He was interested in the linguistics aspects of this subcultural inside language."
Sheriff's officials said they were aware of the book but didn't consider it relevant to the investigation. Murrell is not a witness.
K-State officials said Monday that Murray had been put on leave with pay. Until further notice, he's not allowed to go to campus or have contact with any students.
The witness list in the case is unusually large for a criminal case and includes police, neighbors of both Ross and Murray, and K-State students and staff.
One witness listed is Paul Restivo, a teacher now in Independence, Mo., who was taking a K-State class from Murray last fall when Carmin Ross was killed.
Restivo said Murray was reserved but always well-liked. Murray returned to class a couple of weeks after the murder, briefly described what was happening and didn't bring it up again, Restivo said.
Lengthy case ahead
Police and prosecutors wouldn't elaborate on details of the case Monday and continued to refuse to say how Ross was killed. Detectives' questions of a baby sitter after the death indicate Ross may have been stabbed.
Coroner Erik Mitchell's office has not yet decided whether to release the autopsy, an office worker said Monday.
Sheriff Rick Trapp, who oversaw the investigation, said Monday the arrest didn't mean law enforcement officials were satisfied.
"It's just the next step in this investigation and prosecution," he said. "There's no celebration or anything like that. We're strictly business, and we're prepared to assist the district attorney's office in any way to help get this matter prosecuted."
Kenney said her office filed charges once it was clear the investigation had "exhausted all of its potential." She said one reason it took nearly a year to file charges was that investigators were waiting for forensic-lab results.
"We would get information from one lab that required us to go seek expertise from another lab," she said.
Irigonegaray said in court Monday he had just received 1,700 pages of documents and reports, much of it related to DNA, fiber analysis and other scientific evidence.
Kenney said she expected the preliminary hearing in the case to last at least three days and possibly a week. Fairchild scheduled it to begin Dec. 6.
"We wanted for the victim's family to bring this case forward and bring it to a resolution for them," Kenney said. "They have waited a long time for charges. I expect they will have to wait quite a bit of time now for the case to be resolved."
---
6News reporter Brooke Wehner contributed to this story.
Copyright 2018 The Lawrence Journal-World. All rights reserved. This material may not be published, broadcast, rewritten or redistributed. We strive to uphold our values for every story published.