Curt Schilling and Pedro Martinez are revved up, and Roger Clemens and Roy Oswalt are rarin' to go.
The shadows are getting longer, the leaves are starting to turn, and pumpkins are showing up. It's October, and it's playoff time.
All of a sudden, all those wins hardly matter. The St. Louis Cardinals and New York Yankees were the only teams to top 100 victories, yet both start the playoffs today without a true ace and concerns about their ailing pitchers.
Boston and Houston truly are dangerous as they try to catch the wild-card wave that produced the last two World Series champs. The Red Sox and Astros feature potent 1-2 combos in their rotations, a perfect recipe for the postseason.
"When you get down to a game or a short series, it's the beauty of the game of baseball," Cardinals manager Tony La Russa said. "Bucky Dent can hit a three-run home run or your hottest hitter can go up there and the guy throws the best slider of his life and gets him out, or your best pitcher hangs a slider. That's why you've got to play the games. To me, that's part of the thrill, that uncertainty."
Starting this week, Vladimir Guerrero gets a chance to boost his reputation. He'll play in the postseason for the first time, as will Eric Gagne, Adrian Beltre, Carlos Beltran and Oswalt.
Barry Bonds is out, as are Jack McKeon and World Series champion Florida. Sammy Sosa and the Chicago Cubs faded and missed the playoffs this year, and so did Oakland.
Andy Pettitte, Tim Salmon and Darren Dreifort saw their teams reach the playoffs, but injuries denied them the opportunity to play. Orlando Hernandez, Jason Giambi and Scott Rolen are banged up.
The chase begins anew this afternoon at Busch Stadium, when Woody Williams and the Cardinals face Odalis Perez and the Los Angeles Dodgers in their best-of-five NL series.
"If we beat St. Louis, we're going to win the World Series," Perez said.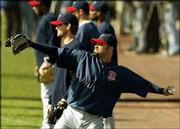 Later, Schilling and the Red Sox visit Jarrod Washburn and the Anaheim Angels in the AL.
"When you get to the playoffs, you're not going to be facing pitchers who have ERAs of 7.00 or 8.00," Angels first baseman Darin Erstad said. "I mean, to win it all, you've got to beat the best, so we might as well face the best right away."
At night, superb lefty Johan Santana and the Minnesota Twins take on Mike Mussina at Yankee Stadium.
From the introduction of the starting lineups, the Twins will be on their toes in a rematch of a first-round series they lost in four games last year.
Wednesday, the other series starts when Clemens and the Astros visit Jaret Wright and the Atlanta Braves.
For Astros Jeff Bagwell and Craig Biggio, it will be a chance at redemption. The Braves beat Houston in the first round in 1997, 1999 and 2001, with B&B; going a combined 11-for-75 (.147) with no extra-base hits and zero RBIs in 10 games.
"I think the odds are in our favor," Astros owner Drayton McLane said. "It's our turn."
In any case, everyone is even, at least for a day.
"I feel good about where we are right now. We're very comfortable," Yankees manager Joe Torre said. "When I say comfortable, that doesn't mean we're taking someone for granted, but it's comfortable with who we are right now and how we're playing."
Copyright 2018 The Associated Press. All rights reserved. This material may not be published, broadcast, rewritten or redistributed. We strive to uphold our values for every story published.