Minneapolis — The Minnesota Twins startled the New York Yankees in last year's playoffs by going to the Bronx and taking the first game of their first-round series -- before losing the final three.
Well, here comes Minnesota's second chance.
Ben Broussard hit a two-run homer, lifting the Cleveland Indians to a 5-2 victory over the Twins on a strange Sunday afternoon that sent the AL Central champs to Yankee Stadium for the start of the postseason.
"It's going to be a lot of pressure," said Johan Santana, who will start Game 1 Tuesday night against Mike Mussina. "That's the way this game is. That's what we want. That's what we're ready for."
Twenty minutes before the originally scheduled game began, Minnesota beat Cleveland, 6-5, in 12 innings to finish Saturday's suspended game more than 26 hours after it started. Michael Cuddyer's two-out double scored Jason Bartlett from first base to end it.
Minnesota (92-70), which won its third straight division title, could have started the postseason at home against the wild-card Boston Red Sox with a better finish. After clinching, the Twins went 4-8.
"A little disappointing here at the end, but I'm very proud of this baseball team," manager Ron Gardenhire said. "Looking forward to the playoffs."
The Indians (80-82), who came within a game of the Twins on Aug. 14 before fading, finished with their best record since 2001 and made a 12-game improvement over last year.
Orioles 3, Red Sox 2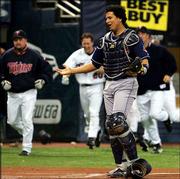 Baltimore -- Miguel Tejada drove in his major-league-leading 150th run, and the Red Sox found out they'll be opening the playoffs in Anaheim. Red Sox manager Terry Francona substituted liberally to rest his regulars for the postseason.
Yankees 3, Blue Jays 2
Toronto -- Bernie Williams hit a tiebreaking homer off Josh Towers (9-9) in the eighth inning, and New York learned it would play host to Minnesota in the opening round of the playoffs. New York finished 101-61, joining Atlanta (1997-99), Baltimore (1969-71) and the Philadelphia Athletics (1929-31) as the only teams with three straight 100-win seasons.
Devil Rays 7, Tigers 4
Detroit -- Tampa Bay set a franchise record with its 70th victory. Detroit (72-90) bounced back with a relatively respectable season -- improving by 29 victories -- after losing an AL-record 119 games in 2003.
Athletics 3, Angels 2
Oakland, Calif. -- Rookie Nick Swisher singled home the go-ahead run in the eighth inning, and Oakland defeated playoff-bound Anaheim.
Rangers 3, Mariners 0
Seattle -- Ichiro Suzuki got two final hits, and Edgar Martinez grounded into a double play in his last at-bat. Suzuki pushed his major-league record for hits in a season to 262.
Copyright 2018 The Associated Press. All rights reserved. This material may not be published, broadcast, rewritten or redistributed. We strive to uphold our values for every story published.