Uncasville, Conn. — Taj McWilliams-Franklin burst into tears at the buzzer, her emotions finally getting the best of her.
The Connecticut Sun are heading to the WNBA Finals for the first time.
Her 18 points and nine rebounds Sunday led the Sun to a 60-57 victory over the New York Liberty for a two-game sweep of the Eastern Conference finals.
An original member of the Orlando Miracle that moved to Connecticut last season, McWilliams-Franklin went 1-of-2 at the line with 48 seconds left to give the Sun a 55-54 edge. New York was denied a fifth trip to the championship series.
"It's been seven long years for me," McWilliams-Franklin said. "It's remarkable. All I was thinking was to try and get some rebounds and get some extra opportunities to score."
The Sun wasted plenty of scoring chances early, missing open layups off their transition game. But McWilliams-Franklin kept them in the game with time running out. She had a key defensive board with less than 11/2 minutes left that led to a fastbreak layup by rookie guard Lindsay Whalen to make it 54-all.
"I thought she kind of willed us to win between her rebounding and her help on defense," Sun coach Mike Thibault said. "In the end, she was the one person who stepped up and kept making shots around the basket. I think her teammates knew they could ride her back."
Katie Douglas extended Connecticut's lead to 59-54 by hitting all four of her free throws down the stretch. New York had three turnovers in the final seconds, but countered with a three-pointer from Elena Baranova with 1.7 seconds left. Whalen sealed the victory by making a free throw with 0.6 seconds left. New York was unable to get a shot off before the buzzer.
Vickie Johnson led New York with 19 points.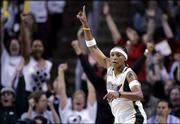 Storm 66, Monarchs 54
Seattle -- Lauren Jackson scored 23 points, and Seattle forced a decisive third game in the Western Conference finals.
After squandering a 14-point lead in the series opener in Sacramento, the Storm charged to a quick lead and held off another late charge.
DeMya Walker led Sacramento with 15 points, but the Monarchs' trio of Walker, Yolanda Griffith and Tangela Smith were held to 35 total points after averaging nearly 45 through the playoffs.
Copyright 2018 The Associated Press. All rights reserved. This material may not be published, broadcast, rewritten or redistributed. We strive to uphold our values for every story published.