Lawrence's 3-month-old smoking ban has cleared the air inside the city's bars and restaurants, but is filling downtown sidewalks with litter and profanity, Lawrence residents and business owners say.
Forced outside by city statute July 31, smokers are congregating on the sidewalks along Massachusetts Street -- bringing cigarette butts and bawdy conversation with them.
"We have noticed that the bar talk has spilled outside," said Pete Logan, who lives within walking distance of downtown with his wife, Theresa, and 3-year-old daughter, Ruby. "A lot of times it's loud and crude, with a lot of profanity."
Though the couple, who are former smokers, said that while the change in downtown's atmosphere hasn't kept them away, it has made them more conscious of what little Ruby is being exposed to.
"She is at that age where she repeats everything she hears," Theresa Logan said. "So that language isn't really the kind of thing you want her around. It's just a little bit different now. We'll keep coming, because we really like it down here. But if we see a big group on the sidewalk, we might steer around them or go to the other side."
Butts piling up
Additionally, the cigarette butts that formerly would be amassed in ashtrays and on bar floors instead are piling up on downtown streets and sidewalks.
"There are a lot more cigarette butts around -- the streets are trashier," said Kansas University student Lynnette Dornak, a smoker.
Bar owners are responsible for seeing that areas outside their establishments are swept, just as they were before the ban. But forcing smokers outside may have increased litter throughout downtown, and not just outside the bars, said Gavin Smith, a manager at Fatso's, 1016 Mass.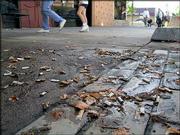 "It seems like there are more cigarette butts up and down the street, because people are smoking when they move from bar to bar," he said. "I think it is probably a bigger burden on the city to keep the rest of the streets clean than it is on us to sweep up our sidewalk."
Business complaints?
While much has been made of the smoking ban's impact on the bottom line for Lawrence bars, less attention has been paid to the other effects of forcing smokers outside.
Lavern Squier, president of the Lawrence Chamber of Commerce, declined to say whether the chamber had received complaints from non-tavern owners about the ban being bad for business.
"It is an individual, subjective thing," Squier said. "It is going to vary from business to business."
Proponents of the smoking ban, though, said that if there has been any change in downtown's atmosphere, it was a minor price to pay for the health benefits of the ban.
Kathy Bruner, coordinator of Clear Air Lawrence, the group that spearheaded the ban, said that having smokers gathered on the sidewalk should not significantly impact downtown businesses.
"Most of the families who come downtown leave before the bars fill up," Bruner said. "They just aren't out a whole lot at night."
And forcing bar patrons onto the sidewalks does not appear to have made the streets of downtown any more rowdy. Lawrence Police Department spokesman Dan Ward said officers have not seen an increase in the number of fights or disorderly conduct downtown since the ban went into effect.
"We certainly don't have people rioting in the streets," Ward said.
A 'seedy' feel
But some bar-goers sympathize with families like the Logans.
Sherry Warren, a KU graduate student who frequents the Red Lyon, 944 Mass., said having smokers huddled together on the sidewalk gave Massachusetts street a "seedy" feel.
"Families walk by here all the time, and you can just see them cringe when there is a group outside smoking," Warren said. "Downtown should be for strolling, not for standing around smoking."
Smith, the Fatso's manager, agreed that forcing smokers outside gave Massachusetts Street a different feel.
"I just think it probably looks tacky to people who are visiting Lawrence to see 200 people up and down the street smoking," he said.
Copyright 2018 The Lawrence Journal-World. All rights reserved. This material may not be published, broadcast, rewritten or redistributed. We strive to uphold our values for every story published.