Jerusalem — Prime Minister Ariel Sharon pledged Sunday to escalate a broad Israeli offensive in northern Gaza, saying troops would remain until Palestinian rocket attacks are halted. Israeli officials said the offensive, in which 58 Palestinians and three Israelis have been killed, will help clear the way for an Israeli withdrawal.
Israel poured 2,000 troops into northern Gaza after a Palestinian rocket attack on Wednesday killed two preschoolers in the Israeli town of Sderot.
In new bloodshed Sunday, at least seven Palestinians, including a 13-year-old boy, were killed, while a second 13-year-old boy died of wounds sustained earlier.
The fighting, concentrated in Jebaliya refugee camp, has caused heavy damage. Palestinians say Israeli forces have destroyed homes, torn up roads and left a kindergarten in rubble.
The Israeli air force also fired two missiles early today at a group of Palestinian militants in Gaza City, wounding three people, including a local Hamas commander. The Israeli military had no immediate comment.
Speaking on Israel Radio, Sharon said he was determined to halt rocket fire on towns inside Israel and shelling of Jewish settlements in Gaza
"The current situation cannot continue," Sharon said. "We have to expand ... the areas of operation in order to get the rocket launchers out of the range of Israeli towns."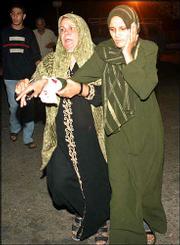 Israel is operating in a five mile strip of northern Gaza, aimed at keeping its cities and towns out of rocket range.
"The forces will have to remain there as long as this danger exists," Sharon told Israel's Army Radio.
The rocket attacks could complicate Sharon's plan to pull all troops and Israeli settlements from Gaza next year. Sharon insisted Sunday that the pullout would take place on schedule.
Copyright 2018 The Associated Press. All rights reserved. This material may not be published, broadcast, rewritten or redistributed. We strive to uphold our values for every story published.