Maria Russo has told her governing board that Nov. 30 will be her last day as executive director at Jayhawk Area Agency on Aging.
But for those worried she has run the agency into the ground, her departure won't come a moment too soon.
"The place is a mess," said former board member Jim Snyder. "She's run off a lot good people. Turnover is a huge problem. She's spent money she doesn't have."
Primarily an administrative agency, Jayhawk oversees distribution of state and federal funds to programs for the elderly in Douglas, Shawnee and Jefferson counties.
The agency hires case managers who figure out whether a senior citizen is eligible for Medicaid-funded, in-home services such as help with bathing, cooking and grocery shopping. They also check to make sure the services are provided.
The agency, Russo said, has a $2.5 million budget, about half of which is used to underwrite services through programs like Douglas County Senior Services, 745 Vt.
"I've had a great eight years here," she said. "But I feel it's time for me to move on, to further my career."
Vocal critic
Russo insists she's leaving the agency in good shape. Others aren't so sure.
Appointed by the city of Topeka, Snyder joined the agency's board in September 2003. Nine months later, he was voted off.
"I was ousted by a bunch of people who found it easier to do nothing than to straighten this out. Their solution was to kill the messenger," said the 71-year-old Snyder, a former executive director of Kansas Funeral Directors and Embalmers Assn. He lives in Topeka.
Snyder said Jayhawk's troubles began in 1997 when lawmakers decided to put the state's 11 area agencies on aging in charge of assessing the needs of older Kansans. Previously, the assessments had been handled by each county's health department.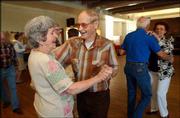 After the shift, Jayhawk went from eight employees to 38. To accommodate the increase, Jayhawk moved to a much larger Topeka building at 1995 SW Buchanan that had earlier housed the state's Department of Social and Rehabilitation Services Topeka-area office.
The building, Snyder said, was too big for the agency's budget.
"They went from a $1,000-a-month rent with utilities paid to a $5,000-a-month rent with utilities extra," he said. "That means they went from paying $12,000 a year in rent to paying right at $100,000 a year in rent and utilities."
He added, "Two years ago, the rent went up to $6,000 a month."
Snyder said much of the money now being spent on rent should have been used to raise case managers' wages or to pay for additional services.
"I'm not saying they should have stayed in the old building. It was a dump," he said. "But now they're in a building that's way too big and that they can't afford."
Fund-raising furor
To offset the difference in rent, Snyder said, the agency set out to raise an additional $100,000 annually.
"They hired a fund-raiser, but they haven't raised any funds -- not that anybody could show me," Snyder said.
Russo disagreed with Snyder's assessment. "For the amount of space we're getting, our rent is comparable to what others are paying in Topeka," she said. "It's not out of line."
Most of the building, she said, is occupied and the agency's budget is in the black.
But Marsha Goff, a member of the agency's advisory council, said she recently received a letter from the board, asking her to ask 10 of her friends to donate money to Jayhawk.
"I'm a little upset about that," said Goff, a rural Lawrence resident. "When I agreed to serve on the council, I said the one thing I would not do is raise money. I just hate asking people for money."
Goff said she didn't have a clear reading on Jayhawk's budget and why it needs money.
Russo said the letters were sent in hopes of raising funds for additional programs -- not for current operations.
Shawnee County Commissioner Marice Kane wants to know who's right.
"If service dollars are being spent on rent, someone should be held accountable," she said. "Right now, I have questions. I don't have answers."
Employee concerns
Kane said she's become suspicious of Russo's assurances that all is well at Jayhawk Area Agency on Aging.
"I've had a lot of people call me," she said. "I've spent hours on the phone, talking to people about what's going on there. I don't think this is about one disgruntled board member, Mr. Snyder. I think there's a pattern."
Earlier this year, the agency's board commissioned a survey of employee concerns, Snyder said.
"The findings were not complimentary," he said. "Out of the 27 who responded, 16 attached typed-written comments that were critical of (Russo). It was pretty obvious we weren't treating our people good."
According to Snyder, Russo decided not to share the written comments with the board.
"That's when I took it upon myself to make copies. I made sure all the board members got them," he said. "After that, they voted me off the board. That was their solution."
Shortly after leaving the board, Snyder forwarded copies of the comments to the Shawnee, Jefferson and Douglas county commissions, Topeka and Lawrence mayors and former members of the governing and advisory boards.
"I had no qualms about doing that," he said. "The employees were being ignored, and I didn't think that was right."
Russo defended the decision not to release the written comments.
"Those were internal documents that were reviewed to determine what changes -- if any -- needed to be made," she said. "They were personnel matters."
And her rapport with her employees, she said, is in keeping with any other executive director's.
"I believe I have as much staff support as any manager does," she said. "Nobody ever has 100 percent. I think Mr. Snyder is a disgruntled ex-board member who has an ax to grind."
Turnover troubles
Russo said the agency's rate of staff turnover was an acceptable 20 percent per year.
Asked if the rate among case managers was higher than 20 percent, Russo replied: "I don't have it broken down by departments."
Lynn Luck, executive director at the Jefferson County Service Center in Oskaloosa, said it was higher.
"It has to be," she said. "I have people here who've had six or seven caseworkers."
Jane Metzger, executive director at Meals on Wheels of Shawnee and Jefferson Counties, said she, too, had noticed high turnover among Jayhawk Area Agency on Aging workers.
"We call over there all the time because we never know who somebody's case manager is from one day to the next," she said. "The turnover is so high."
Until a few weeks ago, Lawrence resident Sharon Morrow was a case manager at Jayhawk Area Agency on Aging.
"When they gave up our health insurance, I had to look for another job," Morrow said. "I left on good terms."
She had worked there two years.
Morrow said she was "reluctant" to talk about the agency's troubles.
"I'm a social worker, and the social-work community is really pretty small," she said. "But turnover is a problem, yes. It's a lot higher than 20 percent."
Morrow is now a case manager at the Community Drop-In Center in Lawrence.
Douglas County Administrator Craig Weinaug confirmed receiving a packet of employee complaints from Snyder.
"We looked at it, made copies and passed them on to our representatives of the board," Weinaug said. "We trust them to take whatever action is appropriate."
Governing board members from Douglas County include Lee Hedrick, Pat Donahue and Shirley Harkess, all of Lawrence; and Joe Simunac, Baldwin. They have been supportive of Russo.
Simunac, 82, defended Russo's performance, noting he spent a day with a case manager last week in an effort to hear workers' concerns first-hand.
"There is some grumbling, that's true," he said. "But this is social work, that's to be expected."
Russo's successor has not been named.
Copyright 2018 The Lawrence Journal-World. All rights reserved. This material may not be published, broadcast, rewritten or redistributed. We strive to uphold our values for every story published.