Orchard Park, N.Y. — Tom Brady's arm and Richard Seymour's legs. You can't accuse the New England Patriots of running out of winning combinations.
The quarterback and the defensive end teamed up to secure the Patriots' record-tying 18th straight victory, 31-17 over the Buffalo Bills on Sunday.
Brady's performance was no surprise, putting New England ahead for good with a two-yard touchdown pass to Daniel Graham four minutes into the fourth quarter that broke a 17-all tie. It marked the 16th time that Brady had led the Patriots to victory in the final 15 minutes or overtime.
Seymour's effort was much more breath-taking -- or, perhaps, breath-exerting.
With the Bills threatening to tie the game, the 310-pound lineman snapped up a fumble by Drew Bledsoe forced by Tedy Bruschi and ran it back 68 yards to seal the victory with 2:44 remaining.
"A lot of sucking air," Seymour said, laughing. "I just kept running."
And so appear to be the Patriots, who have not lost in 53 weeks, going back to a 20-17 defeat on Sept. 28, 2003, at Washington.
In between, they've won 15 consecutive regular-season games and three in the playoffs, including February's Super Bowl victory over Carolina.
The Patriots tied a record held by four other NFL teams -- Chicago did it twice -- and also by the 1947-48 AAFC Cleveland Browns. They're the first to win 18 straight since Denver in 1997-98.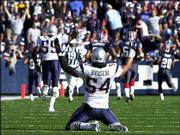 New England gets an opportunity to break the record by playing host to Miami next weekend.
As impressive as it seems, the Patriots continue to downplay the streak, calling it meaningless.
"We don't really think about that," Seymour said. "I know we need to play better than we played today. It's not going to be good enough coming down the stretch."
The Patriots' performance was good enough to beat a bumbling Bills team that has lost three straight to open this season, lacks confidence and continues to find ways to lose.
The Bills -- coming off consecutive 13-10 losses to Jacksonville and Oakland -- lost while squandering their best offensive performance of the season.
Bledsoe finished 18-of-30 for 247 yards, including a 41-yard touchdown to Eric Moulds. And the Bills also got a strong special teams effort as Terrence McGee ran back a kickoff 98 yards for a touchdown.
None of that seemed to matter for a team that could be described as the anti-Patriots, a group that can't seem to win in the clutch and has managed just 17 victories since the start of the 2001 season.
Any chance of a Buffalo victory ended with back-to-back plays on the Bills' last significant drive.
On third-and-two from the Patriots 16, running back Travis Henry was untouched when he fell face-first at the line of scrimmage for a one-yard loss.
On fourth-down, the Bills called for Bledsoe to run a naked bootleg. But the play was blown up before it had a chance even to develop when Bruschi got to Bledsoe and forced the fumble.
"Same old thing the last three games," Bills coach Mike Mularkey said. "I'm not trying to make excuses, it's unacceptable. I'll take responsibility for it. It's not getting done."
Bledsoe seemed at a loss.
"I was sitting at my locker for 10 minutes trying to figure it out and in the shower trying to figure it out ... 'What can I do to make a change?"' Bledsoe said. "We're making mistakes at the wrong time, and especially against the defending world champs, you can't make mistakes like that."
Cardinals 34, Saints 10
Tempe, Ariz. -- Emmitt Smith earned another NFL record with his 77th 100-yard rushing game and threw the first pass of his 15-year pro career. It went for a touchdown. The NFL's career rushing leader had his best game since leaving Dallas two years ago, gaining 127 yards in 21 carries. It gave Dennis Green his first victory as Cardinals coach. Smith, six months past his 35th birthday, tied Walter Payton's record of 77 games with 100 yards. It was his first 100-yard game since Thanksgiving 2002, when he did it for Dallas against Washington.
Jets 17, Dolphins 9
Miami -- The Jets came up with four turnovers by quarterback Jay Fiedler in the second half, including an interception returned 66 yards for a touchdown by Donnie Abraham, to improve to 3-0 for only the third time in franchise history. New York also won its first three games in 1966 and 2000. The Dolphins fell to 0-4 for the first time since their expansion season in 1966. They have scored two touchdowns this year while committing 14 turnovers and will need dramatic improvement on offense to avoid their first losing season since 1988.
Colts 24, Jaguars 17
Jacksonville, Fla. -- Peyton Manning was 13-for-13 for 162 yards on three touchdown drives to lead the Colts. Jacksonville (3-1) played a fourth consecutive close game -- it won the first three by a combined seven points, but couldn't pull this one out. After Edgerrin James' three-yard touchdown run gave the Colts a 24-17 lead, Jacksonville drove into Indy territory with less than two minutes to play. But Fred Taylor came up short on fourth-and-one, and the Colts (3-1) ran out the clock.
Steelers 28, Bengals 17
Pittsburgh -- Ben Roethlisberger, showing uncommon poise for a rookie not expected to play this season, twice rallied the Steelers, and Duce Staley ran for 123 yards. Roethlisberger went 17-of-25 for 174 yards, a touchdown and no interceptions to easily better Carson Palmer in a QB duel that may be repeated for years in the AFC North.
Giants 14, Packers 7
Green Bay, Wis. -- Tiki Barber ran for a 52-yard touchdown and 182 yards in all, Kurt Warner threw a touchdown pass to Jeremy Shockey, and Packers quarterback Brett Favre was knocked from the game because of a head injury. The Giants improved to 3-1 despite a series of missed opportunities, including three errant field-goal attempts by Steve Christie. The Packers, trying to overcome infighting and injuries, fell to 1-3 for the first time since 1993 and have their first three-game losing streak under fifth-year coach Mike Sherman.
Eagles 19, Bears 9
Chicago -- David Akers kicked four field goals, and Donovan McNabb threw for 222 yards and a touchdown as the Eagles picked apart the injury-riddled Bears. Terrell Owens caught eight passes for 110 yards and a touchdown, which he celebrated with sit-ups in the end zone. Brian Westbrook ran for 115 yards and caught nine passes for 63 yards as the Eagles improved to 4-0 for the first time since 1993. All of Philadelphia's victories have been by double digits, and this one wasn't even as close as the score indicated. The Bears fell to 1-3.
Falcons 27, Panthers 10
Charlotte, N.C. -- The Panthers finally found a way to contain Michael Vick. And it didn't matter. The Falcons still found a way to win, moving to 4-0 to match the best start in franchise history. Warrick Dunn had a 38-yard touchdown run, and Kevin Mathis returned an interception 35 yards for another score. The Falcons last opened the season 4-0 in 1986. Normally unable to stop Vick from racking up astronomical numbers, the Panthers (1-2) held him to 148 yards passing and 35 yards rushing in this meeting. But with all the focus on keeping Vick in check, Carolina was a mess in other areas.
Texans 30, Raiders 17
Houston -- After 36 games, the Texans have their first winning streak. That means it's finally time for a haircut, David Carr. Carr vowed last September he wouldn't cut his hair again until the Texans won consecutive games. Now he happily can head to the barber. Carr's defensive teammates made it possible by harassing Raiders (2-2) new starting quarterback Kerry Collins into five turnovers, including each of his last four drives.
Chargers 38, Titans 17
San Diego -- Drew Brees, who has had a tenuous grip on his job since last season, threw for three touchdowns, including a 58-yarder to Reche Caldwell midway through the fourth quarter. LaDainian Tomlinson rushed for 147 yards and one touchdown for the Chargers (2-2). The Titans (1-3) played without quarterback Steve McNair, who was reduced to being the emergency third quarterback after bruising his sternum in a loss to Jacksonville last week. Billy Volek threw for 278 yards and two TDs, but it wasn't enough to keep the Titans from losing their third straight.
Browns 17, Redskins 13
Cleveland -- Lee Suggs, who missed Cleveland's first three games because of a neck injury, rushed for 82 yards and scored on a three-yard touchdown run in the fourth quarter. From his first carry of the season, a 25-yard dash in the first quarter, the speedy Suggs gave the Browns (2-2) the spark their ground game had been missing. Jeff Garcia went 14-of-21 for 195 yards and a TD for the Browns, who didn't secure the victory until Washington's Laveranues Coles fumbled with two minutes left.
Broncos 16, Bucs 13
Tampa, Fla. -- Jake Plummer threw a five-yard TD pass to Patrick Hape, and Jason Elam kicked three field goals for the Broncos (3-1). Plummer completed 13 of 31 passes for 138 yards, saving his best for the fourth quarter when he took advantage of a 37-yard pass-interference penalty to set up Elam's 24-yard field goal that snapped a 13-13 tie with 9:03 to go. The winless Buccaneers got their only touchdown on a play on which safety John Lynch, making his emotional return to Tampa, failed to knock down a receiver who was getting up off the ground. Instead, Lynch merely touched Michael Clayton on the back, thinking the rookie was down. Clayton, whose helmet was knocked off when his head was brushed by Lynch's knee, stood up and took off for the end zone to complete a 51-yard pass play.
Rams 24, 49ers 14
San Francisco -- Marc Bulger passed for 186 yards, Marshall Faulk rushed 121 more, and St. Louis sent the woeful 49ers to their first 0-4 start in 25 years. Isaac Bruce had seven catches for 100 yards as the Rams (2-2) earned their ninth victory in 11 games against their longtime rivals. This one was out of reach early: St. Louis built a 24-0 halftime lead, and the sellout crowd booed San Francisco off the field while heading for the exits.
Copyright 2018 The Associated Press. All rights reserved. This material may not be published, broadcast, rewritten or redistributed. We strive to uphold our values for every story published.