The good news for Kansas University's soccer team is All-America forward Caroline Smith appears to have found her goal-scoring groove.
She punched the net twice in KU's 3-0 victory Sunday against Baylor at the Jayhawk Soccer Complex.
The bad news is No. 12-ranked Kansas still isn't putting teams away, which sixth-year coach Mark Francis warned could come back to bite his squad.
KU (11-2 overall, 3-1 Big 12 Conference) whipped Texas Tech, 5-0, Friday night in a rare display of rapid-fire goals where the Jayhawks never allowed their opponent time to rally. Against Baylor, it was a 1-0 game until Smith scored twice in the final 10 minutes.
"We've gotta be able to bury teams when we're up," Francis said. "Especially at home, we've got to be able to bury teams in those situations."
Kansas dominated throughout the first half, controlled the pace of play and placed five of eight shots on goal.
Sophomore forward Jessica Kilpatrick was the only Jayhawk to find net in the half, scoring on a header after Smith took a pass from senior midfielder Amy Geha, dribbled to the endline and chipped a pass over BU goalkeeper Ashley Holder to Kilpatrick.
For Kilpatrick, it was her first goal since tallying two in KU's 3-1 victory over Illinois State in the first round of the 2003 NCAA Tournament.
The Bears (4-6-1, 1-3) threatened in the final seconds of the half when Margaret Kaderli ripped a point-blank shot, but senior goalkeeper Meghan Miller made a sliding save and popped the ball wide.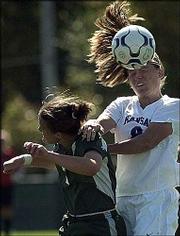 Baylor carried that momentum into the second half and dominated the first 20 minutes. It only managed one shot on goal during that span, but repeatedly had the ball in the KU box.
"Part of the problem was our attitude," Miller said. "We were already up 1-0 and we didn't go out there and put them away. Baylor's a good team and they made us pay for it. We still won the game 3-0, but there were chances where they were down our throats and gave us a hard time."
KU restored order and controlled a heated final 30 minutes. Kilpatrick, Smith and Holly Gault ripped shot after shot on goal, and senior Monica Brothers fired two more off headers. The more Kansas threatened, the more visibly frustrated the Bears became.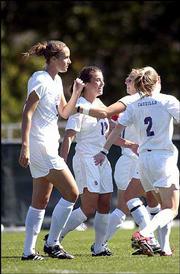 In the 81st minute Geha slipped a pass through two BU defenders and Smith stole it out of her hands for an easy goal and 2-0 KU lead. Just 48 seconds later, junior forward Jessica Smith blew past Holder for what would have been an easy goal, but Holder leveled her, received a red card and was ejected. Caroline Smith drilled the ensuing penalty kick for the final 3-0 score.
For Geha, the two-assist game was her first as a Jayhawk, and she climbed to third on KU's career list with 15.
For Caroline Smith, Sunday marked her first two-goal game of the season after posting six multi-goal games in 2003. She leads KU with six goals and five assists this season.
"I got a bunch of chances and I got a couple goals," Smith said. "It feels a little better, and I've been getting some assists, which helps too, because I feel like I'm at least doing a little bit more out there."
Kansas next plays at 7 p.m. Friday against Missouri in Columbia, Mo., at the Audrey J. Walton Soccer Complex. KU went 2-0 on MU's home turf last year, including a 2-0 victory against the Tigers in the NCAA Tournament second round.
"Momentum is not going to mean a darn thing next week when we got to Missouri," Miller said. "They're a great team. They're Missouri. That's about all I can say without getting in trouble."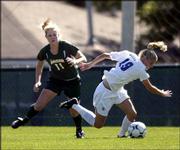 Copyright 2018 The Lawrence Journal-World. All rights reserved. This material may not be published, broadcast, rewritten or redistributed. We strive to uphold our values for every story published.