Inside the front door of Verner Newman's home, a painting of three African women hangs next to his Lawrence Police Department plaques, badges and officer stripes.
Down the hall, Dr. Martin Luther King Jr.'s profile hangs next to a painting of a black man with dreadlocks. In the bedroom of Newman's granddaughter, Victoria, who lives with him, all the dolls have brown skin.
This is the world of retired Police Capt. Verner Newman. It's a black man's home, a comfortable refuge for a man who for more than 50 years dealt with the color barriers erected by a white world.
Recollections of snowstorm
Newman is now 74. Sometimes, he feels old. His eyes don't work like they once did. But his memory works fine.
He'll start anywhere if you ask him, but today he starts when he became a police officer in Lawrence 50 years ago this month:
It is cold, that's the first thing, he says. Winter came early in 1954, and Newman's job as a traffic officer has him pacing Massachusetts Street, directing traffic after a snowstorm.
"I was out there, freezing my hoo-hoo off," he says.
He wants to change jobs and work in a car with another officer. An officer just left the force, leaving another white officer without a partner. When Newman asks about the job, the white officer wants no part of it. The police officer would rather go it alone than have a black man for a partner.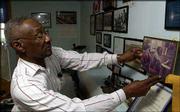 So Newman stays on the street, walking the blocks some days and riding a three-wheeled motorcycle on others.
It's his first slice of life as a black authority figure in Lawrence.
Racial tensions high
When Verner Newman talks, a story about life as a black police officer can quickly transform into a story about an old police chief he worked under or patrolling the sidelines at Kansas University football games.
Leaning back on his couch, Newman wrings his hands and lets one story flow into another, his past rushing back over him:
Now, it is 1968, and Lawrence's black community is rioting. Racial tensions in the country have reached a crest, creating a backlash for black police officers.
Members of the black community ask him to quit the police force, an organization they see as an extension of segregationist laws, he said.
"Are you going to pay my bills?" Newman says.
Family: Two children, Verner Newman IV and Rebecca Murphy; and four grandchildren.Age: 74. He was born May 30, 1930, in Lawrence.Military service: Served two tours of duty-- six years of service -- in Korea with the U.S. Navy.Police service: Worked for the Lawrence Police Department for nearly 26 years, from Oct. 9, 1954, until June 1, 1980. He retired as a captain.Famous people he met in Lawrence: Dwight D. Eisenhower, then a general, and Sen. Robert Kennedy.Kansas University fan: He has attended every KU home football game, except for four, since starting with the Lawrence Police Department. This year will mark his 50th anniversary.
But Newman knows that the threat of violence is real. After he decides to stay, in both Lawrence and the police department, he moves his family out of his home at 10th and Ohio streets and into his aunt's house.
Back at home, he barricades his house, propping mattresses against the doors and windows. Armed with a shotgun and his pistol, Newman sits up, day and night, until the rioting stops.
When things calm down, Newman goes to his chief and longtime childhood friend, Dick Stanwix. Stanwix thanks him for staying. He knows how easy it would have been to leave.
A new job
Newman recalls another story:
After being promoted to captain, but believing he doesn't have much hope of a higher promotion, Newman leaves the Lawrence Police Department in 1980.
"I was packing, out the back door in a hurry," Newman says.
But Newman is only 50 years old, far from retirement.
So, after a brief time away from work, Newman meets Mike Harder, a political science professor at Kansas University, while having coffee at the Lawrence Holidome.
He and Harder become friends. Harder tells Newman that if he wants, he could get him a job with the state.
Newman is offered a job with what was known as the Division of Surplus Property working with the building grounds department.
"You know what they say about building grounds," Newman tells Harder. "You're a janitor."
Harder assures Newman he would work in administration, organizing a custodial staff and maintaining and organizing state buildings, including the Capitol complex.
Which wasn't a simple task for a black man, Newman says.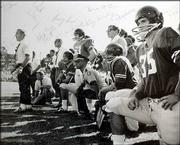 "That upset a lot of people," Newman says about his administrator position.
Newman is put in charge of reserving the rotunda at the capitol building, a highly sought-after location for events in Topeka.
Everybody has to talk to him before they can use the rotunda, whether you're a state senator or leader of a high school marching band, he says.
Newman smiles a little, but his voice lowers and scratches.
"They didn't like that," he says. He pauses to consider why. "Well, cause I was black, for one thing."
Becoming a grandfather
Now when he tells his stories, they speak of his hardships and the people he met along the way who tried to stop him from doing what he wanted to do.
But after nine years away from work, he tells other stories, too.
"I love my grandkids," he says of his four. "That's what I spend my time doing."
He says, again and again, that he was the last person he knew to become a grandparent. But it doesn't matter much now.
"It was the highlight of my life when they moved to Lawrence," he said.
Sure, Newman still complains about his health from time to time. And he knows Lawrence has more to do to close the racial divide he experienced so often.
But in the here and now, surrounded by his grandchildren and the comfort of his home, Verner Newman's past is gone.
Copyright 2018 The Lawrence Journal-World. All rights reserved. This material may not be published, broadcast, rewritten or redistributed. We strive to uphold our values for every story published.