Houston — Phil Garner savored the taste of champagne, the smell of his cigar and the wild celebration going on in the Houston Astros' clubhouse.
Garner had known nothing but bitter endings after spending 10 mostly terrible seasons as a manager in Milwaukee and Detroit. He looked to be headed toward another awful year after taking over the slumping Astros at the All-Star break.
But Garner and the Astros capped an incredible late-season turnaround by winning the NL wild card, clinching Sunday by beating the Colorado Rockies, 5-3, for their 18th consecutive home victory. Houston will face the NL East-champion Braves in a best-of-five series beginning Wednesday in Atlanta.
"This is almost just a big release," said a smiling Garner, drenched in the bubbly and clutching an unlit cigar. "People thought we were dead in the water, and we worked all the way back and changed that. This is just a great ending to what became an improbable year for us."
Brandon Backe (5-3) filled in admirably for an ailing Roger Clemens, pitching five strong innings and driving in two runs.
Houston won the final seven games of the regular season and nine of the last 10 to complete an amazing push for the playoffs under Garner, who replaced Jimy Williams.
After the final pitch, Houston's players ran out of the dugout to meet near the mound for hugs and high-fives while red and white confetti rained down on the fans. Garner was a bit slower onto the field, walking on the grass with a big smile and a tip of his cap toward the stands.
Eventually, Garner and his team donned silver-and-white caps with the Astros' shooting star logo and the words "Wild Card" in capital letters.
The Astros were a season-worst 56-60 Aug. 14. Four days later they lost standout pitcher Andy Pettitte to season-ending elbow surgery. But they rallied and won an exciting stretch duel with San Francisco, Chicago, San Diego and Florida.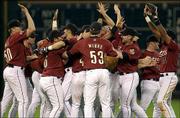 Houston earned its seventh playoff berth, first as a wild card -- and the Astros are in great shape going into the playoffs. Clemens can start Game 1 on full rest as long as he's recovered from a stomach virus, and 20-game winner Roy Oswalt would be ready to follow.
Mets 8, Expos 1
New York -- The Expos lost their final game before moving to Washington, and Todd Zeile hit a three-run homer in his final at-bat. The game also was the last for Art Howe as the Mets' manager. He was fired Sept. 15, but chose to stay on to finish out a dismal season in which the Mets went 71-91.
Cardinals 9, Brewers 4
St. Louis -- Ray Lankford hit a two-run pinch-hit homer in what could have been his final game with St. Louis. Albert Pujols doubled twice, So Taguchi doubled and tripled, and Yadier Molina homered for the NL Central champions, who won only two of their last seven games. St. Louis finished a major-league-best 105-57, one win shy of the franchise record for victories set in 1942.
Cubs 10, Braves 8
Chicago -- Greg Maddux beat Atlanta in his first appearance against the Braves in 12 years. Maddux (16-11) worked six innings and yielded six runs.
Phillies 10, Marlins 4
Philadelphia -- Bobby Abreu hit his 30th homer, and Jimmy Rollins had a grand slam. Marlins outfielder Juan Pierre became just the third player since 1971 to play every one of his team's innings in the field.
Pirates 2, Reds 0
Cincinnati -- Barry Larkin played in what might have been his final game for Cincinnati, then told fans he hoped to be back.
Giants 10, Dodgers 0
Los Angeles -- In a regular-season finale that resembled an exhibition game, Jason Schmidt (18-7) pitched six dominant innings, and Ray Durham and Pedro Feliz hit first-inning homers.
D'backs 4, Padres 1
Phoenix -- Doug DeVore, Robby Hammock and Juan Brito hit home runs, and the Diamondbacks ended a miserable season on a positive note.
Copyright 2018 The Associated Press. All rights reserved. This material may not be published, broadcast, rewritten or redistributed. We strive to uphold our values for every story published.