Baldwin — Baker University's football team continued its hard-nosed play at home, pounding Avila University, 28-7, Saturday at Liston Stadium.
The Wildcats (3-2) dominated on the ground, shook off shaky passing and receiving, and were spectacular on defense in their homecoming victory. They piled up 365 yards of total offense, held Avila to just 89 yards and improved to 3-0 at home.
"We all worked hard and worked together, and we did our job today," said senior defensive end Luke Thompson, who contributed five tackles and a sack. "We made a goal at the beginning of the season not to lose any home games, and I think that helps us out a lot because we get pretty fired up at home not to let anybody win on our turf. Now, we've got to carry that over to the road."
Baker was creative offensively in the first half. It established All-America running back John Reeves early by giving him the ball on its first four plays, and then mixed in a variety of slant passes and a few deep balls. A fake punt prolonged the opening drive before it sputtered with a missed field goal.
The BU defense forced a quick three-and-out, however, and freshman D.J. Carter took the ensuing punt back 58 yards for a touchdown and 7-0 lead.
"That took a lot of pressure off," Reeves said. "That's a good example of a freshman stepping up in a key position for our football team."
Relaxed from the special-teams score, the Baker offense took over. A 40-yard run by Reeves and a late-hit penalty on Avila gave BU the ball on the Avila 11-yard line. On the next play the Wildcats pitched to Reeves, who rolled out and lofted a touchdown pass to Gerrad Speer.
A partially blocked punt midway through the second quarter set up Avila's lone score of the game, a two-yard run by Kevin Furderer. Baker answered with a touchdown in the final minute on a four-yard bootleg by quarterback Brian Sheppard.
The Wildcats led 14-0 at intermission, but the advantage could have been greater if not for three dropped passes that halted drives.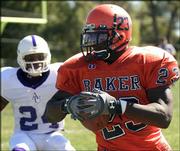 "Offensively, we need to be efficient with the football," first-year BU coach Mike Grossner said. "We need to throw and catch. We had a lot of drops today, and we need to make the proper throw. Once we get to that point we'll score some more points."
Baker added a fourth-quarter touchdown when Sheppard hit junior wide receiver Ryan Pitts with a 27-yard strike in the back of the end zone.
Reeves led the BU offense with 172 yards of total offense -- 143 rushing, 18 receiving and 11 passing. Sheppard completed 12 of 32 passes for 143 yards, and Pitts had five catches for 80 yards.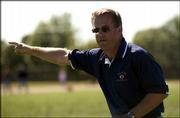 The Wildcats are off this week before heading to Culver-Stockton on Oct. 16 in Canton, Mo., in search of their first road victory.
"We'll figure it out," Grossner said of rectifying his team's road woes.
"We're in the thick of the playoff race, the championship race, and we've got to go get a win if we want to be a part of it at the end."
Copyright 2018 The Lawrence Journal-World. All rights reserved. This material may not be published, broadcast, rewritten or redistributed. We strive to uphold our values for every story published.