Fresh fruits and vegetables were very special seasonal foods until growers learned how to ship fresh produce by train in the early 1900s. The average person living in the northern United States ate strawberries for only a few weeks each spring, when they were in season locally.
Because strawberries were so seldom available, they were a special treat and were served like a luxury food. Strawberry servers and strawberry dishes were available in silver, pottery and porcelain. The server was shaped like a shallow basket with a handle. A small, attached tray on each side held a sugar bowl and a creamer. The set might also have included a berry spoon, to be used to dish out the berries, and a sugar spoon. Strawberry dishes are not found very often.
Silver-plated examples from late-Victorian times sell for about $250. Colorful majolica sets are more fragile and sell for thousands of dollars. The basket without the creamer and sugar is sometimes sold as a server, and it also brings high prices.
My small, drop-front cherry desk has Queen Anne legs and one long drawer. Inside the front are several pigeonholes and two small drawers. My grandfather bought the desk at an estate sale and gave it to me in the early 1950s. The manufacturer's plaque in the drawer reads "Wilhelm Furniture Co., Sturgis, Michigan." When was this company in business?
The Wilhelm Furniture Co. did business under that name from about 1913 to 1939. The company started as the Stebbins Furniture Co., founded in Sturgis in 1887. Stebbins became Stebbins-Wilhelm Furniture Co. in 1907, then became Wilhelm Furniture Co. sometime between 1913 and 1917. Wilhelm manufactured cherry, mahogany, walnut and oak desks, tables, smoking stands and radio cabinets in several revival styles, including Queen Anne.
I'm looking for information about a cut-glass pedestal plate in an unusual shape. The top is not flat and round, like a cake plate. Instead, the plate is curved upward on two sides.
Your footed glass stand is a banana boat. When shipping and refrigeration advances were made toward the end of the 19th century, "exotic" fruits like bananas and oranges could be transported throughout the United States. Tableware manufacturers responded by creating new designs for serving the new fruits.
I remember the day I was given my Mickey Mouse rocking "horse." It was in 1937, and I still have the wooden rocking toy. Mickey is stretched out, with a flat seat attached to his back and a wooden handle inserted through one of his ears. Four thin wooden supports hold his body to the two wooden rockers. Mickey's red shoes are marked "Walt Disney Enterprises." Can you tell me who made the toy and what it's worth?
Your rocking Mickey was manufactured by the Mengel Co. of St. Louis. Mengel made a few different styles of Disney character rocking toys between 1935 and 1939. If your toy is in excellent condition, it could sell for several hundred dollars.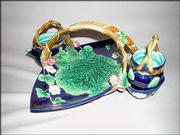 My grandmother left me three small color prints mounted in a three-part wooden frame. Each print is of a young American Indian girl. In the larger central print, she is rowing a canoe. In the smaller side prints, she is looking at her reflection in water and standing near some large rocks. The mark on each print is a copyright symbol and the name "M.L. Kirk." What can you tell me?
Maria Louise Kirk was an artist and illustrator born in Philadelphia in 1860. She illustrated more than 50 children's books, including "The Secret Garden" and "The Princess and the Goblin." Your prints might be illustrations Kirk did for the children's book "Hiawatha."
We have a salesman's sample of a Schoenhut upright piano. It has 30 keys and is in excellent condition. Can you tell us what it's worth?
Your piano is a toy, not a salesman's sample. Albert Schoenhut, a German immigrant, started manufacturing sturdy toy pianos in Philadelphia in 1872. A. Schoenhut & Co. expanded into the production of all sorts of toys, but the company went out of business during the Depression. Albert's sons founded other Schoenhut companies that continued to make the toy pianos. Today they are manufactured in Florida by the Schoenhut Toy Piano Co. The value of yours depends on when it was made and its condition. Uprights from the 1940s and '50s sell for $25 up to $100.
Tip
If two tumblers get stuck when stacked, try putting cold water in the inside glass, then put both into hot water up to the lower rim of the outside glass.
Copyright 2018 The Lawrence Journal-World. All rights reserved. This material may not be published, broadcast, rewritten or redistributed. We strive to uphold our values for every story published.