New York — At the peak of their earnings and spending power, women ages 35 and older are a huge and potentially lucrative market for the nation's apparel merchants.
So big retailers including Gap Inc. and Gymboree Corp. are trying to cater to these shoppers, launching new store chains with clothes that are trendy but not designed for teens.
Gap plans a new store concept in 2005 that will cater to this group, its first new chain in a decade. And Gymboree, the children's clothing retailer, is trying out a new chain, Janeville, with 10 stores.
Even Chico's FAS Inc., already a marketing success with the 35-plus customer, is testing Soma, a chain of lingerie stores.
"Up until recently, this has been an underserved market," said James Chung, president of Reach Advisors Inc., a Boston-based marketing strategy and research firm. "Very shortly, you are going to see a saturated market."
The new stores are opening as major department stores expand their fashion collections from designers including Oscar de la Renta and Michael Kors, hoping to win back the 35-plus shoppers the stores abandoned six years ago in favor of teens. And discounter Target is developing its own fashion lines for these customers.
The industry is paying close attention to how Gap will fare with its new concept. Gap officials declined to say what the new stores would be named, but said they would be distinct from the company's three established brands, which also include Banana Republic and Old Navy.
"This is a group that we still have an opportunity to service," said Jordan Benjamin, a company spokeswoman.
Stylish needs
The challenge for retailers is to woo this generation with stylish clothing that fits but doesn't remind them that they're getting older.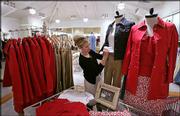 "I don't want the 'older Gap'. I like what they have now," said Judith Lederman, who said she's in her early 40s. She likes to shop for jeans and leather jackets in department store teen sections with her 12-year-old daughter because she feels that the clothes aimed at her age group are too conservative.
The Scarsdale, N.Y., resident likes some items at Chico's, but hasn't seen Janeville or Soma.
But Erin Geisler, 35, of Austin, Texas, said she would be very interested in checking out Gap's new concept as well as Janeville and Soma. "I am not frumpy. I think I am hip, but I don't want clothing for 24-year-olds," she said.
Selling to the over-35 group is less tricky than marketing to teens, who keep wanting new styles and don't stick to any one store, according to Marshal Cohen, senior industry analyst at NPD Group Inc., a market research company based in Port Washington, N.Y. Older shoppers tend to be more loyal to their stores, and have more money to spend.
Big spenders
Female customers ages 35 to 54 spent $30.7 billion in the 12 months ended July, up 1.7 percent in the year-ago period, according to NPD. That compares with $11.85 billion spent by the 13-to-17 age group, a 10.3 percent decline from the previous period. Sales of overall female apparel rose a meager 0.4 percent to $93.12 billion in the 12-month period ended July.
Each retailer appears to be staking out its own niche.
Chico's, which now has more than 400 stores, was one of the first to tap into this market with a simple size system, loose-fitting, embellished clothing in natural fabrics, and a knack for helping customers create wardrobes. Chico's sees Soma -- which sells a variety of lingerie, from thongs to less-revealing undergarments -- as a way to further strengthen its position, analysts said.
Chico's officials declined to comment for this story, but Jennifer Black, president of Black & Associates, an independent research firm, thinks Soma could serve as a practical alternative to Victoria's Secret, whose sexy, bare-all undergarments may be considered too young for older consumers.
"I like Victoria's Secret, but this place has a more sophisticated look," said Nicki Murphy, who was shopping at the new Soma store in Atlanta.
Gymboree's Janeville offers more casual clothes than Chico's. Chief executive Lisa Harper believes Janeville will do well because the retailer already has a built-in base of female customers who shop at Gymboree. The new chain is expected to have 400 stores in the next seven years.
Copyright 2018 The Associated Press. All rights reserved. This material may not be published, broadcast, rewritten or redistributed. We strive to uphold our values for every story published.