Columbia, Mo. — Call it the revenge of the Fifth Down.
With 6:47 to play, Colorado's Evan Judge appeared briefly to cradle a pass that, with a two-point conversion, would have tied the game at Missouri.
But Tigers cornerback Shirdonya Mitchell wrestled the ball away as the two men fell to the ground for an interception that helped the Tigers beat Colorado, 17-9, Saturday in the Big 12 Conference opener for both teams.
It was one of several big second-half plays by the Missouri defense. After Colorado ran up 186 yards and didn't punt in the first half, the Buffaloes' seven second-half possessions ended in five punts and two interceptions. Colorado managed just 65 total yards in the second half.
"I saw Evan jump up and catch it," quarterback Joel Klatt said of the crucial play. "I had my hands up in the air, and I was running toward him. I thought it was a touchdown. I don't know what happened."
If the interception was questionable, it hardly matched the final moments of the 1990 game here, when officials inadvertently gave Colorado five downs in a late drive, the last of which resulted in a touchdown and a Colorado win that was crucial to the Buffaloes' share of the national championship.
The defensive showing helped Missouri survive 70 penalty yards -- one negating a long touchdown pass -- three missed field goals and a relatively lackluster showing for an offense that was averaging 38 points a game.
On second-and-goal, Klatt threw to the corner of the end zone to Judge, who was airborne as he clutched the ball.
"That's the one that should have made the difference for us," Colorado coach Gary Barnett said of the turnover setting up the drive. "But we get down there and throw a pick, or whatever you call it."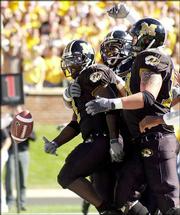 No. 2 Oklahoma 28,
Texas Tech 13
Norman, Okla. -- Jason White threw three touchdown passes to break Oklahoma's career mark, and Adrian Peterson added 146 rushing yards and a touchdown run.
White broke Josh Heupel's record in the third quarter with his 54th career touchdown pass. Fullback J.D. Runnels caught White's pass in the right flat and took it into the end zone to put Oklahoma (4-0, 1-0) ahead, 21-6. Travis Wilson caught his second touchdown pass of the game in the fourth quarter to make it 28-6.
White finished with 151 yards -- his fewest of the season -- on 15-for-24 passing.
Texas Tech dropped to 3-2 overall and 1-1 in the league.
No. 5 Texas 44, Baylor 14
Austin, Texas -- Cedric Benson ran for 188 yards and three touchdowns, and Vince Young passed for two scores for Texas.
Benson passed Earl Campbell for second place on the school career rushing list, and Young threw his first scoring passes to a wide receiver, both going to Tony Jeffery in the first half.
While rain and an early start kept many fans away from Royal-Memorial Stadium, the Longhorns (4-0, 1-0) made quick work of the Bears (2-2, 0-1) in their final tuneup before next week's matchup with No. 2 Oklahoma in Dallas.
No. 25 Oklahoma State 36, Iowa State 7
Stillwater, Okla. -- Vernand Morency ran for 143 yards and two touchdowns, and Jason Ricks kicked three field goals for Oklahoma State.
Jamie Thompson caused two fumbles and recovered another for Oklahoma State (4-0, 1-0). The Cowboys, who led 23-0 at halftime, held the Cyclones (2-2, 0-1) to just 59 yards rushing on 37 carries.
Copyright 2018 The Associated Press. All rights reserved. This material may not be published, broadcast, rewritten or redistributed. We strive to uphold our values for every story published.