It has to end one of these days ... right?
Kansas University football fans have been asking that for years now, and each year it gets postponed at least until the next. Now, as other streaks are dropping like flies, Jayhawk faithful are getting desperate to see their Achilles heel healed for good as the program begins to see better days.
Thirty-five.
Nebraska has beaten KU 35 straight times heading into tonight's 6:10 p.m. game between the teams in Lincoln, Neb.
If it were a wedding anniversary, the Jayhawks would have received a lovely gift of coral or jade after last year's 24-3 setback. But for a football series, it's nothing but bumps, bruises and busted egos.
Of the last 35, some were close games -- like the classic 1993 showdown the Huskers eked out, 21-20. Many, quite simply, were not close, like the 49-7 flogging in 1992, the 67-13 stomping in 1983, the 70-0 whooping in 1986 ... well, you get the picture.
The last time KU won the annual game was Oct. 12, 1968, when great quarterback Bobby Douglass led the Jayhawks to a 23-13 triumph over the Cornhuskers in Lincoln. It was the second straight year KU topped the Huskers.
As it turned out, that streak ended at two -- and a colossal one going the other way would begin the next season with a 21-17 Nebraska victory at home.
The Cornhuskers have had other giant streaks against Big 12 Conference opponents since 1968. Every Big 12 North team has lost at least 14 consecutive contests to the mighty Cornhuskers since then. The most, besides KU, was a 29-game slide that Kansas State finally broke in 1998.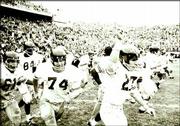 But KU is the only North school with a significant streak still chugging along. Many of this year's players shrug it off. So does KU coach Mark Mangino, who says matter-of-factly, "I'm only responsible for three of them."
He is right, but The Streak's magnitude -- and majesty -- is too grand to ignore, even if it was going full speed well before every current KU player was born.
Here's a look back at some of the most memorable -- and scarring -- showdowns between Kansas and Nebraska since 1968.
The last victory
Bobby Douglass was the man in '68, an All-American quarterback from El Dorado who had size, speed and a cannon for an arm.
On Oct. 12, Douglass was in Lincoln, Neb., breaking the hearts of 67,119 Husker fans with a come-from-behind KU victory, 23-13, that propelled the Jayhawks to 4-0 en route to one of the program's best seasons.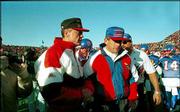 Down 13-9 late in the fourth quarter, the Jayhawks relied less on Douglass' strong arm and more on his strong legs. A 14-play, 73-yard drive with 11 rushes culminated with fewer than five minutes to go, when Douglass scampered in from a yard out to put KU up 16-13.
Previously unbeaten Nebraska didn't respond, instead sputtering to just three yards on four plays and giving the ball back to the Jayhawks to do more damage. Douglass did, scoring again on a 10-yard run with 1:11 left to clinch the victory.
The game was a turning point in both teams' seasons. KU surged, won its next three and finished with a 9-2 record, an Orange Bowl appearance and No. 7 national ranking. Douglass finished with 1,316 passing yards, 495 rushing yards, 12 touchdowns ... and several invitations to participate in postseason all-star games.
The Cornhuskers, meanwhile, went 3-3 the rest of the season, falling to Missouri, Kansas State and Oklahoma. They finished unranked, one of the few times a Bob Deveany-coached squad did so.
Whatever happened to Nebraska after the 1968 season, it was monumental. After finishing 6-4, Nebraska never won fewer than nine games in a season for the next 33 years. The Jayhawks soon would find out that they would be the most abused opponent during the remarkable run.
The crushing blow -- 1974
John Morgan remembers the Big Red -- and how damaging a loss to them really could be.
He was a center and team captain on the 1974 Kansas squad that, for a time, looked poised to do big things.
Led by fiery coach Don Fambrough, and fresh off an appearance in the 1973 Liberty Bowl, the Jayhawks rolled to a 4-1 start, including a 28-10 victory over No. 5 Texas A&M.;
It was looking so promising for the Jayhawks, after three straight victories against Florida State, the Aggies and Kansas State. No .13 Kansas was on the verge of becoming one of the nation's most feared teams. A big victory at home over No. 12 Nebraska on Oct. 19 was a perfect way to prove it.
Four quarters later, the college football nation was stunned: Nebraska 56, Kansas 0.
"It was devastating to get pounded like that at home," Morgan said. "I think the heart of the players disappeared after that."
It hardly can be argued. Kansas, in fact, didn't win another game the rest of the season, all but one of the losses by at least two possessions. When the dust settled from the incomparable Jayhawk implosion, KU finished with a 4-7 record -- one Big Eight victory in seven tries -- and had a new head coach lined up for '75, Bud Moore.
Morgan remembers. His brother, David, was a member of the '68 Orange Bowl team, and the '74 team looked capable of heading down that same successful path.
But the big dreams became nightmares starting Oct. 19 when the Big Red came to Lawrence and walloped the Jayhawks for consecutive win number six.
"It was demoralizing," Morgan said. "We had so many good players. We just couldn't recover."
Going for broke -- 1993
KU's student-run television station, KUJH, went to the vault recently and started airing classic Jayhawk football games, mostly from the Glen Mason era.
During football season, the games are shown frequently during the station's down times. Most are big-time, glorious KU victories of the early '90s , when the program was seeing its best days in the last 35 years.
One game, though, is not.
It was Nov. 6, 1993, in Lawrence. No. 6 Nebraska and unranked Kansas were facing off in a classic dual that looked so unlike most lopsided NU victories since '68.
This time, it was KU's game to win or lose. Nebraska was up a touchdown, 21-14, as the clock wound down, but KU was driving fast, and the Huskers seemed helpless.
"The more and more we started controlling the game, you could see how elevated the worry got in the Nebraska players," said Clint Bowen, a current KU assistant and senior on the '93 team. "You could feel the panic setting in on their part."
With 52 seconds left, KU's all-time leading rusher, June Henley, dove into the end zone for a three-yard score. It was 21-20 Nebraska, but the Jayhawks had a chance to tack on another point or two, depending on if they wanted to tie it or win it.
"The players wanted to win," Bowen said. "We didn't want to tie."
Mason, understandably seeing a rare chance to pounce on the mighty Huskers, elected to try a two-point conversion for the victory. As KUJH unveils time and time again, Mason called for a pass play to the right side, with visions of a 22-21 KU victory dancing in the heads of the 47,500 fans in attendance.
It failed. The Asheiki Preston pass fell incomplete on the right side, and Nebraska extended the streak to a quarter century -- 25 years, 25 games.
When will it end?
There were others in the last 35 years, of course. Lopsided losses like No. 20, the 63-10 drubbing in 1988. Close ones like No. 5, the 10-9 squeaker in 1973. They come in all forms, with dramatics and without.
There's one constant through them all, though: Kansas hasn't been able to win.
All of this year's Jayhawks want to topple the Huskers, but only a few would acknowledge that The Streak has anything to do with it. It's more for the 2004 squad than the 35 teams before them that couldn't get it done.
"It's not just for The Streak, but for the season," KU quarterback Adam Barmann said. "We want to win every game we play. That's another conference game that we need. It's a huge game for us."
Seven KU coaches have come and gone without any luck against the Cornhuskers. Mangino is number eight, with an 0-2 mark against Nebraska.
The Huskers' streak of recording nine or more victories ended at 33 years in 2002. With new coach Bill Callahan bringing a new offensive scheme to Lincoln this year, Husker players aren't entirely comfortable with the way they're asked to execute on the field yet.
But if 35 years of one-sided history teaches anything, though, it's that top-tier programs can produce top-tier teams on an amazingly consistent basis.
Like every year, the Jayhawks have their work cut out for them when they battle the Big Red today.
"Starting all over, starting from scratch is a challenge for any staff," Mangino said. "But they're still Nebraska."
And you can just hear 35 years of Kansas football let out a collective groan.
-- Sports writer David Mitchell contributed to this story.
Eight coaches have guided Kansas during KU's 35-year losing streak to Nebraska. Here are those coaches with their years of service, record against the Huskers, their worst loss to NU and closest game:
Coach
record
score
year
vs. Neb.
Pepper Rogers
2-2
41-20
1970
(Won in 1967, '68)
Don Fambrough
0-8
56-0
1972,'74
10-9
1973
Bud Moore
0-4
52-7
1977
16-0
1975
Mike Gottfried
0-3
56-6
1985
41-7
1984
Bob Valesente
0-2
70-0
1986
54-2
1987
Glen Mason
0-9
63-7
1996
21-20
1993
Terry Allen
0-5
51-7
2001
24-17
1999
Mark Mangino
0-2
45-7
2002
24-3
2003
Copyright 2018 The Lawrence Journal-World. All rights reserved. This material may not be published, broadcast, rewritten or redistributed. We strive to uphold our values for every story published.