Austin, Texas — Still searching for the right combination at wide receiver, Texas has found a great one in tight ends David Thomas and Bo Scaife.
The two are doing it all for the No. 5 Longhorns (3-0), providing punishing blocks for the nation's top rushing team and stretching defenses on pass routes to become quarterback Vince Young's most reliable receivers heading into today's Big 12 Conference opener against Baylor (2-1).
"I love it," said Scaife, a sixth-year senior who was granted an extra year of eligibility by the NCAA after enduring multiple knee injuries during his career. He has five catches this season with one touchdown.
"It's like a blessing, all the things I've been asking for in my prayers," Scaife said, laughing. "It was like, 'God, just tell someone to throw the ball to us."'
Thomas, a junior, has eight catches for 208 yards and a team-high three touchdown receptions.
"Bo and I talked all summer about being the guys in the passing game that make the plays," Thomas said. "It's exciting to see it all coming true. "
That's due partly to the failure of a brand-new receiving corps to have a breakout game. The Longhorns had to replace the trio of Roy Williams, Sloan Thomas and B.J. Johnson this season and so far have had little production at the position.
Senior Tony Jeffery leads the team with 10 catches, but he's the only wide receiver with more than two and has yet to score. All of Young's six TD passes have gone to his tight ends or running backs in an offense that ranks 92nd nationally in passing.
"You know we had the Big Three last year. Vince doesn't have those type of threats anymore," Scaife said. "I tell him I'm available every time they call a pass play. I'm sure David is the same way. I think both us have the confidence to make a big-time catch whether in traffic or 50 yards down the field."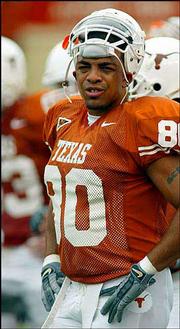 Scaife caught his first touchdown of the season against Rice. He hung on in the end zone after taking a ferocious hit as soon as he hauled in the pass.
Thomas has emerged as the Longhorns' best deep threat. He's got a pair of 49-yard TDs in wins over Arkansas and Rice. Of his eight career touchdowns, the last five have covered an average of 42.8 yards.
"I like to go deep," he said. "That's always fun. You've got a chance to score when you go deep."
The tight ends combination is not a rotation. The Longhorns will use both of them on the same play, sometimes putting Thomas in the slot, sliding him out as a wide receiver or dropping him in the backfield at fullback or H-back. All of which creates matchup nightmares for defensive coordinators.
"He is one of the most valuable players on the offense," coach Mack Brown said. "It's hard to find him and that's what we like."
When Scaife and Thomas aren't catching passes, they're helping tailback Cedric Benson break long runs. Scaife threw a key block to help spring Benson on a 58-yard carry to set up the Longhorns' first touchdown against Rice.
After a few punishing runs like that, linebackers and safeties can't help but cheat up toward the line of scrimmage, drawing them in for ball fakes.
"Whenever they see Cedric or Vince do any kind of play action, they freeze up," Thomas said. "Even if it's just a little fake, it's enough."
Copyright 2018 The Associated Press. All rights reserved. This material may not be published, broadcast, rewritten or redistributed. We strive to uphold our values for every story published.