A U.S. military contract and a grant from the National Institutes of Health have spurred expansion plans for Lawrence-based Pinnacle Technology.
Officials with Pinnacle, 619 E. Eighth St., announced Friday that the company had won a $475,000 contract with the U.S. Navy to develop flight-simulator technology and a $100,000 grant from the NIH to continue work on sensors that monitor brain activity.
The two contracts, both received in September, will require the company to add five employees to its staff of 13.
"For a company our size, this is huge news," said Donna Johnson, president of the company.
Johnson, who founded the research and development company in 1995, said both contracts would allow Pinnacle to work on projects that could lead to significant new products to market.
The Navy contract, expected to be completed in a year, focuses on redesigning the internal components of flight simulators. Among the changes Pinnacle employees are designing is the ability for flight simulators to be monitored by computers from faraway locations.
"You would be able to sit in your office in Lawrence, look at your computer and find out what is wrong with a simulator in China," Johnson said. "It could save a lot of time when you have to repair one of these simulators."
The work is being done for simulators owned by the Navy, but the contract allows for the technology to be marketed to private companies, Johnson said.
The NIH grant involves work on sensors that measure the amount of a chemical called glutamate that is present in the brain. Researchers are interested in glutamate and how it may contribute to strokes and Alzheimer's disease.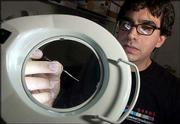 Johnson said the company was working on a sensor that takes a measurement for glutamate every four seconds rather than every four minutes, which is how often current sensors on the market can measure the chemical.
"The biosensor market is really an unknown market right now, but we think it has the potential to be huge because that seems to be the direction the medical industry is heading," she said.
The new jobs will be for an engineer, a technical writer and chemists, said Johnson, who expects to begin the hiring process soon.
She declined to release wages for the new positions, but said she expected the pay would be above the city's average.
Area economic development officials were pleased with the news. Lynn Parman, vice president of economic development for the Lawrence Chamber of Commerce, said the new jobs fit in well with the city's economic development strategy.
"This is the type of company that can offer career opportunities," Parman said. "We're faced with the challenge of commuters leaving the community for career opportunities, so this helps."
Copyright 2018 The Lawrence Journal-World. All rights reserved. This material may not be published, broadcast, rewritten or redistributed. We strive to uphold our values for every story published.