Is nothing sacred?
If you take a look at the irreverent -- some would argue borderline blasphemous -- way that American popular culture treats the icons and symbols of Christianity, Judaism, Buddhism and Hinduism, the answer is an emphatic "no."
The lowbrow lampooning of traditionally beloved articles of faith is a big business these days, as the trappings of religion are co-opted by savvy marketers, recycled and then commercialized -- reappearing in pop culture as hip fashion, decor and tongue-in-cheek novelties.
How else to explain the enduring popularity of "Nunzilla," a windup, plastic nun in full habit -- complete with a crucifix around her neck and a ruler in hand -- who spits sparks as she walks.
Or the Jesus Action Figure ("with posable arms and gliding action"), a mini, plastic Jesus Christ in biblically correct clothing -- and little wheels under his feet.
But wait -- Christianity isn't singled out as a target. Pop culture is nothing if not democratic. Most of the major faiths come in for their share of gentle (or not so gentle) ribbing.
For Jews with a sense of humor, there are Rabbi Punching Puppets, a Torah Personalities Set (baseball-card size) and a Kosherland Board Game.
For Buddhists, there's the Happy Squeak Monk -- a little squeaky-toy Buddhist monk, legs crossed, chatting away on a cell phone while sipping a tiny latte.
Those fond of Hinduism can buy a set of Handy Hindu Finger Puppets, in which the gods Brahma, Ganesh, Garuda and Kali are accurately portrayed in firm rubber.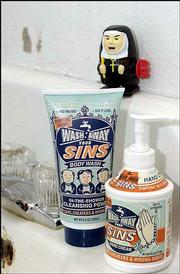 Shocked? Offended? Tickled?
Reactions to these mass-marketed products vary. It depends upon whom you ask and where they're coming from.
And whether the folks who buy them have some appreciation for the deeper meaning behind these religious symbols -- or are just looking for a laugh -- isn't entirely clear.
But one thing is: This stuff is selling like, well, holy hotcakes.
Just ask Jeremy Cain, a salesperson for the past three years at Hobbs Inc., 700 Mass. The store carries Nunzilla at $5.50 apiece.
"These are top sellers," he says. "We always get requests for them, so we call customers when they get in. There's not a person who doesn't laugh when we show it to them."
'Buddha Is My Homeboy'
It's easy to find religious kitsch, or mass-marketed products that poke fun at the symbols of faith, in Lawrence stores.
Hobbs used to sell the Jesus Action Figure, but they have sold out of the popular novelty item.
"Jesus actually glided; he has wheels," Cain says. "We can't keep those in. The Moses Action Figure had the Ten Commandments and a staff. Customers usually giggle and call their friends over to see it."
The store also sells "Wash Away Your Sins Body Wash," a $12 product made with frankincense and myrrh, that offers "in-the-shower cleansing power" "for liars, cheaters & wrong-doers."
Or you can buy a $3.50 card from the iconoclastic Mik Wright line of cards, that has a picture of Jesus at the Last Supper on the outside.
The inside of the card reads: "Excuse me ... but we asked for separate checks! I don't know about everyone else, but this will be the last supper I eat here!"
The Third Planet, 2 E. Ninth St., offers T-shirts that have a silk-screened, smiling Buddha design, with the words, "Buddha Is My Homeboy."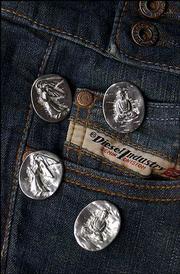 The store also sells the Jesus Action Figure. The packaging of the novelty seems respectful; it explains who the biblical Jesus is and faithfully cites 11 passages of Scripture ("I come not to judge the world but to save it" John 12:47).
There are greeting cards that depict Buddha and Hindu gods and goddesses such as Lakshmi, Devi, Sarasvati and Lord Shiva, though these don't seem intended to be humorous.
Third Planet sold out of the Handy Hindu Finger Puppets a while ago. They were so popular that some people were shoplifting them, according to manager Melissa Padgett.
The Jesus and Moses action figures have attracted a lot of attention among customers.
"They come in and they crack up. We've done really well with Jesus, but Moses only does well at Easter. I thought the Christians would be pissed off (at the products), but only a couple have," Padgett says.
Salesclerk Desiree Schumacher explains why she thinks the pop-culture religious items appeal to the store's younger customers.
"I think it has to do with our generation. We're pulling things from different cultures, we're into trying everything. We're looking for ways to express ourselves," says Schumacher, 19.
'G Force Jesus'
Another place to buy products that riff on traditionally sacred symbols is Urban Outfitters, 1013 Mass.
The store, which caters to a youthful customer base, offers T-shirts with creative graphics and messages, such as: "Jehovah's Fitness, Running and Jumping About for God"; "Jesus Is My Homeboy"; "The Pope Is Dope"; "God Squad"; and "Everyone Loves a Catholic Girl," among others.
The T-shirts that declare "Jesus Is My Homeboy" and "Mary Is My Homegirl" have sold out. So have the red velvet coin banks in the form of Jesus or Mary, and the Jesus Action Figure.
"G Force Jesus," a rosary that's meant to be hung from a car's rearview mirror, went on sale and has been bought out. At the end of the rosary is a miniature Jesus on the cross -- but the little figure appears to be struggling to hold on against an unseen force.
You can still buy, however, a $24 "Biblical Wig" from Michele's Wig Collection. The brown-colored wig, mustache and beard is billed as one-size-fits-all, completely washable and flame retardant.
Questions about the appropriateness of such products were referred by Lawrence store employees to the company's Philadelphia headquarters.
An Urban Outfitters spokeswoman reached Wednesday said simply, "We don't comment on that kind of stuff."
How long will this trend of religious symbols being refracted through the prism of pop culture last?
"I think it's a definite cycle. The pendulum swings back and forth all the time," says Mark Swanson, owner of Hobbs Inc.
"When I was growing up in the '60s and '70s, there was a time when that was going on; that's when I first saw fuzzy Buddha (coin) banks. I think that it ebbs and flows with popularity."
The faithful can take heart. The shelf life of these products, Swanson says, isn't indefinite.
"It's been a good run. I'm not saying that Nunzilla is done -- she's an icon. But when you start seeing it everywhere, it's done. It's over."
So how do Lawrence religious leaders feel about the mass-marketed pop-culture products that poke fun at religion or the traditionally sacred symbols of faith?You won't find the Rev. Steve Kawiecki lining up to purchase Nunzilla (the walking, spark-spitting nun), the Jesus Action Figure or a T-shirt that declares "Jesus Is My Homeboy.""It's just not my bag. I wouldn't buy them," says Kawiecki, associate pastor for youth ministries at First Baptist Church, 1330 Kasold Drive."There's certainly a place for humor and satire when talking about religion. In fact, there's a Christian satire magazine I read called The Door, and it's hilarious. But at the same time, some of these things we're talking about, like Nunzilla, I think that's more about tearing down a faith and trivializing it."While he finds novelty products such as the "G Force Jesus" rosary disrespectful and inappropriate, the Rev. Paul Gray says religion can be leavened with laughter now and then."God has a sense of humor, and he's passed that onto us. If people do find themselves being offended by things like this (various pop-culture items), I think my counsel would be to really do some soul searching and try to determine what it is that offends you," he says."If it's literally something that is really sacrilegious and mean spirited, that's one thing, if it's just humorous, maybe you need to lighten up."-- Jim Baker
Copyright 2018 The Lawrence Journal-World. All rights reserved. This material may not be published, broadcast, rewritten or redistributed. We strive to uphold our values for every story published.