Topeka — First, Kim Karfonta did a cartwheel, then she executed a couple of difficult back-flips.
No, this wasn't gymnastics. It was soccer.
Karfonta, a reserve Kansas University forward, had just scored her first goal of the season -- the Jayhawks' last in a 5-0 domination of Texas Tech on Friday night at Hummer Sports Park -- and Karfonta kept her word.
"I promised my teammates I'd do it if I scored," said Karfonta, a junior from Edmond, Okla. "It's kind of expected. I used to be a gymnast and cheerleader in high school."
Karfonta's post-goal gymnastics exhibition punctuated the Jayhawks' most decisive win of the season.
"That was pretty good," KU coach Mark Francis said of Karfonta's flips. "I'd give her a 9 ... or a 91/2 ... or a 10."
Francis was in a jovial mood after the Jayhawks had a season-high 24 shots on goal, scored on a season-high five, posted their eighth shutout and, more importantly, avenged a 3-2 loss to the Red Raiders last season in Lubbock, Texas.
"Last year was disappointing," Francis said. "Beforehand, we showed a little video of the goals Tech scored, and I think they wanted a little vengeance."
Kansas needed 14 minutes to grab a 1-0 lead. Freshman Afton Sauer broke the ice when she headed a free kick by Lauren Williams past Tech goalie Tina Rincon. About six minutes later, Nicole Cauzillo drilled a lazer shot off a free kick into the net from about 25 yards out.
"I knew the wind was behind me and the wind would pick it up," Cauzillo said about her fourth goal of the season.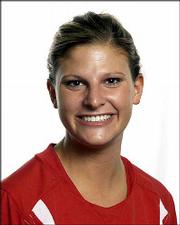 A brisk north wind came with a front that produced rain most of the day and prompted a venue shift from a 4 p.m. start at the Jayhawk Soccer Complex to a 7 p.m. first-kick at Topeka's artificial-turfed and lighted facility.
"We were worried about lightning delays," Francis said. "If we would have had to delay, we could have run out of daylight, and we don't have lights on our field. As it turned out, we probably could have played at KU, but either way this was a good decision."
Caroline Smith's goal 71/2 minutes before the break -- her fourth -- gave KU a 3-0 lead, then Rachel Gilfillan nailed her team-high fifth goal 11 minutes into the second half off after a crisp pass from Smith.
Minutes later, Francis pulled his starting front line, and gradually began sending in reserves. Karfonta's goal was the lone score in the last 34 minutes. Francis even used reserve goalies Colleen Quinn and Erin Ferguson for the first time.
"We got to rest a lot of people and a lot of people got to play," Francis said. "Another good thing is that five different people scored our goals. That makes it harder to key on one person."
Texas Tech (3-8 overall; 0-3 Big 12) had just six shots on goal. Regular KU goalie Meghan Miller had one save in 62 minutes plus of duty. Quinn and Ferguson each added one save.
Kansas (10-2 overall; 2-1 Big 12) will meet Baylor at 1 p.m. Sunday at Jayhawk Soccer Complex.
Copyright 2018 The Lawrence Journal-World. All rights reserved. This material may not be published, broadcast, rewritten or redistributed. We strive to uphold our values for every story published.