Gaza Strip — Israeli aircraft struck more targets in the Gaza Strip on Friday as the army massed an armored force in apparent preparation for a major military operation against militants in Jebaliya, the Palestinians' biggest refugee camp.
Some 200 tanks, armored personnel carriers and armored bulldozers assembled along Israel's border on Gaza's north and east of Gaza. Security officials quoted Defense Minister Shaul Mofaz as ordering troops to "exact a price" from the militants. Soldiers began erecting makeshift camps, indicating commanders could be planning a prolonged operation.
At the same time, masked Palestinian gunmen fortified positions in the maze of alleys that lace Jebaliya, a teeming half square mile that is home to 106,000 people, one of the most densely populated places on Earth.
The Palestinians death toll in the most recent round of fighting reached 39 early today when Israeli aircraft fired at a group of Palestinians northeast of Jebaliya, killing two militants from the Islamic Jihad group and wounding four other people, according to witnesses and Palestinian hospital officials said. The army said it had fired at a group of gunmen.
Seven Palestinians were killed and at least 32 wounded by the missiles and in a failed attack on an Israeli border crossing Friday, while two others died from wounds suffered a day earlier. Fighting on Thursday killed 28 Palestinians and wounded 139, most of them in Jebaliya, in the worst single-day toll in 30 months.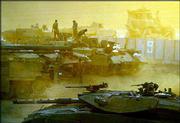 The Israeli death toll stood at five, including two preschoolers whose killing Wednesday by a Palestinian rocket led the Israeli government to order what was shaping into one of the largest offensives of the 4-year-old Palestinian uprising.
Underscoring the difficulty of stopping such attacks, another homemade Qassam rocket fired Friday hit Sderot, the dead children's hometown, even as Israeli troops took control of a five-mile-wide strip of Gaza in an effort to put Israeli towns out of rocket range.
The rocket caused no injuries, but the Israeli incursion into Jebaliya was inflaming passions in a conflict that has killed some 3,000 Palestinians and 1,000 Israelis in four years.
Prime Minister Ariel Sharon told the security Cabinet that he was determined to stop the rocket fire. "What can we do? The Jews, too, have a right to live," a participant quoted Sharon as saying.
In Washington, the State Department called on Israel to temper its military response to the rocket attack.
Copyright 2018 The Associated Press. All rights reserved. This material may not be published, broadcast, rewritten or redistributed. We strive to uphold our values for every story published.