Olathe — Free State sophomore Brian Murphy rushed for 103 yards and two touchdowns Thursday night, but it wasn't enough to keep the Firebirds from suffering their fifth straight loss.
Olathe South scored two fourth-quarter touchdowns to blow open a close Sunflower League game in a 27-14 victory at Olathe District Activities Center.
"Our kids are still fighting," said FSHS football coach Bob Lisher, whose team fell to 0-5 overall and 0-4 in the league. "We had a few mental lapses that put us in a hole, but I thought our kids played pretty well."
Free State's defense played well in the first half, holding the Falcons (4-1, 2-0) to seven points, 98 rushing yards and 123 total yards in the first 24 minutes. Olathe South entered the game ranked second in the league in rushing offense (an average of 224.2 yards a game), while FSHS ranked 10th in run defense (201.5).
It looked like O-South might run over Free State after the Falcons marched 87 yards on 11 plays -- 10 of them on the ground -- on their opening drive.
Brady Croucher made it 7-0 with a 25-yard touchdown pass to Bryce Morris.
FSHS had a chance to pull even early in the second quarter after Murphy ran 46 yards for a touchdown, but Free State's extra-point attempt was blocked.
It still was 7-6 at halftime, but O-South needed only four plays on the opening drive of the second half to create some breathing room. Croucher set up O-South's second score with a 51-yard run, and Henry Lige scored the first of his two TDs on a five yard run.
"We just came out and executed," said Olathe South coach Mark Littrell, whose team won its fourth straight. "Our lines weren't playing well on either side in the first half."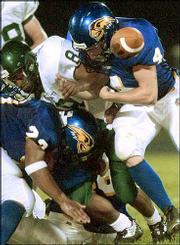 That wasn't a problem in the second half. Murphy gained 102 yards on 14 first-half carries, but he finished with 103 yards on 24 carries after South stopped him for a loss or no gain five times after the break.
O-South pulled away in the fourth quarter with Devin Cummings' 25-yard touchdown run and Lige's 20-yard TD run. The Falcons finished with 325 yards rushing, compared to 138 for the Firebirds.
Murphy was the only one of Free State's seven ball carriers with more than 15 net yards. He started at tailback in place of junior Brett Lisher, and sophomore quarterback Ryan Murphy split time with senior Nick Witmer at quarterback. Free State, which has just 25 juniors and seniors, has relied more on its large sophomore class as the season has gone on.
Ryan Murphy's 43-yard pass to Cory Cooper set up Free State's final TD, a two-yard run by Brian Murphy.
"We're trying to get them in there," Lisher said of his sophomores. "Hopefully, that'll pay off. We're a better team than we were four weeks ago, but we still are playing good teams."
The Firebirds will try end their season-long drought Thursday when they play host to Olathe Northwest.
Northwest (1-4, 1-3) stopped its own four-game skid Thursday with a 28-9 victory over Shawnee Mission Northwest (1-4, 1-1).
"That's very important," Lisher said of next week's game. "You can get some momentum going into district. We have to show up and earn it because nobody's going to give it to us. A win next week would do wonders for a team that's struggling."
First Quarter2:01 -- Bryce Morris 25 pass from Brady Croucher. Olathe South took the ball 87 yards on its first drive, which started with 10 straight running plays for 65 yards. Facing third-and-16 from the Free State 25, Croucher eluded two tacklers and completed the TD pass to Morris. Jimmy Sweeney kick. (O-South 7, FSHS 0)Second Quarter8:31 -- Brian Murphy 46 run. Free State took over at own 20 and needed just six running plays to score. Murphy had three carries for 17 yards. Kick blocked. (O-South 7, FSHS 6)Third Quarter10:08 -- Henry Lige 5 run. Tony Bryant returned the opening kick of the second half 40 yards to O-South's 45. Two plays later, Croucher's 51-yard run moved ball to Free State's 2. After a penalty, Lige scored his first TD. Sweeney kick. (O-South 14, FSHS 6)Fourth Quarter11:39 -- Devin Cummings 25 run. A Free State punt pinned O-South at its own 9, but Croucher completed a nine-yard pass to Morris on third-and-three at the 16. Shawn Allen had big play of drive, turning a short pass into a 48-yard gain down the O-South sideline. Cummings scored on the next play. Kick failed. (O-South 20, FSHS 6)8:17 -- Lige 20 run. O-South started at Free State's 16 after the Firebirds punted from their own end zone. After Croucher lost four yards on first down, Lige added his second TD. Sweeney kick. (O-South 27, FSHS 6)2:18 -- Brian Murphy 2 run. O-South fumbled a Free State punt, and Danny Pike recovered at Firebirds' 49. Ryan Murphy set up the late TD with a 43-yard pass to Cory Cooper. Ryan Murphy run. (O-South 27, FSHS 14).
Copyright 2018 The Lawrence Journal-World. All rights reserved. This material may not be published, broadcast, rewritten or redistributed. We strive to uphold our values for every story published.