Kiev, Ukraine — Facing a relentless tide of opposition protests, embattled President Leonid Kuchma said Monday that a new election might be the only way out of a spiraling crisis that threatens to break up this former Soviet republic between the pro-Russia east and the Western-leaning rest of Ukraine.
Kuchma warned that "we cannot in any instance allow the disintegration or division of Ukraine," and Secretary of State Colin Powell said he had telephoned the Ukrainian president to express concern about reports of a possible splintering of the country.
Kuchma -- who along with the Kremlin has staunchly supported the official winner of the disputed Nov. 21 runoff, his Prime Minister Viktor Yanukovych -- has called for compromise throughout the standoff but had not previously endorsed another vote.
"If we really want to preserve peace and harmony, if we really want to build a democratic state ... let's hold new elections," said Kuchma, who did not seek another term. He said Ukraine needs a "legitimate president" and added that the crisis could be resolved through a "constitutional agreement" endorsed by parliament, suggesting existing law might not be flexible enough to accommodate a settlement.
While it fell short of meeting protesters' hopes that opposition leader Viktor Yushchenko would be named president, Kuchma's statement appeared to be at least a tacit admission that the election was tainted.
Yanukovych, who was declared the winner of the runoff by a margin of 871,402 votes, said he would support another vote if allegations of fraud in the election are proven -- but that he had yet to see such proof.
Yushchenko has pushed for a new vote to settle the runoff, but Kuchma's remarks suggested the government may want to start the whole election process over. Kuchma's statement could also indicate a desire to win a respite from the relentless opposition blockade of official buildings.
Kuchma spoke as Yushchenko's supporters contested the vote in the Supreme Court, demanding that it cancel the official results because of evidence of fraud.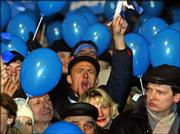 Addressing tens of thousands of supporters who flooded central Kiev for the eighth straight day, Yushchenko urged them to maintain their vigil despite freezing temperatures. "The next couple of days will bring a solution," Yushchenko said, as the crowd shouted in support.
He said he expects the court's verdict soon, and added that the opposition would also try Tuesday to topple Yanukovych's Cabinet through a no-confidence motion in parliament.
But in a sign of division in Yanukovych's camp, Serhiy Tyhypko resigned as his campaign chief and also stepped down as Central Bank chairman.
Kuchma warned that the country's financial system could "fall apart like a house of cards" in "a few days" because of the civil unrest.
"Neither the president nor the government can be held responsible for this," he said. "The government cannot work in a normal way as you can all clearly see."
Copyright 2018 The Associated Press. All rights reserved. This material may not be published, broadcast, rewritten or redistributed. We strive to uphold our values for every story published.