Russell Robinson has been known to have the hot hand on the basketball court.
Thus his nickname: "Toaster."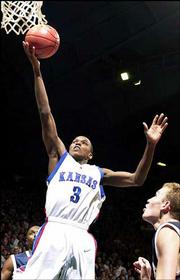 "One day last summer I had a good pickup game. It started there," Kansas University freshman backup point guard Robinson said after scoring 13 points off toaster-oven 6-of-9 shooting in Monday's 85-52 victory over Nevada.
"Yeah, I like it ... toaster," he added.
Sophomore J.R. Giddens, who, like Robinson, tallied 13 points, lauded the effort of the quick New Yorker.
"'Toast' did great tonight," said Giddens. "We call him 'Toaster Strudel.' I shorten it to 'Toast.' I'll be out on the court and say, 'Hey, Toast.'''
What's with the strudel part of the nickname?
"I don't know. Nick Bahe came up with that," Robinson said with a grin.
The New Yorker wasn't all that impressed with his own performance at the backup-point-guard slot Monday.
"I am still struggling with a couple of turnovers," he said. "Little mistakes. I need to cut down on those freshman mistakes and go from there."
He definitely is a hound on defense. He had three steals versus Nevada.
"I try to change the pace of the game when I come in," he said. "I try to create my offense off my defense."
Copyright 2018 The Lawrence Journal-World. All rights reserved. This material may not be published, broadcast, rewritten or redistributed. We strive to uphold our values for every story published.