New York — Computer-savvy consumers did plenty of online shopping during the Thanksgiving weekend, giving companies like Amazon.com and walmart.com the same kickoff to the holiday season as department stores and malls had.
The pickup in business on the Web was the result of online merchants using marketing tricks like their bricks-and-mortar counterparts -- plying consumers with special discounts to convince them to shop early.
Online sales excluding travel shot up 100 percent to $133 million on Thanksgiving Day compared with the same day last year, said comScore Networks Inc., an Internet research company. On Friday, online sales hit $250 million, up 41 percent from a year earlier.
"We certainly expected a strong performance during the holiday weekend, but these are impressive figures," said Dan Hess, senior vice president at comScore.
The online shopping season historically has begun the Monday after Thanksgiving, when consumers begin buying from their workplace computers. But the early start this year is being attributed to two phenomena: Merchants are working harder to get online sales, and millions of homes have converted to high-speed Internet connections, making it easier to shop from home.
About 53 percent of consumers with access to the Internet currently have high-speed Internet connections, compared with 40.9 percent a year ago, according to Ken Cassar, an analyst at Nielsen/NetRatings Inc.
According to Nielsen/NetRatings, the sites that had the biggest spikes in visits this past Friday, compared with a week earlier, were those operated by traditional retailers including walmart.com, sears.com and toysrus.com. Toysrus.com's traffic soared 212.6 percent Friday, while Amazon.com was up 49.7 percent, Nielsen/NetRatings said.
"Consumers are becoming more savvy about how to use the Internet," Cassar said. "They realize they can do things that can make their stores shopping trip more efficient."
Melissa Payner, president and chief executive of Bluefly.com, an online seller of discounted designer fashions and accessories, reported a double-digit increase in sales during the Wednesday-through-Sunday period from a year earlier. In 2003, the company drove sales and traffic with a promotion on Prada handbags and wallets on Thanksgiving Day, but decided to be even more aggressive this year, offering a larger assortment of Prada merchandise.
Bluefly.com also launched its own sweepstakes that gave customers chances to win a closet full of ultra-upscale Jimmy Choo shoes by going to its Web site through Jan. 15.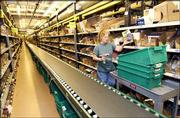 "For the first time, we really participated in the Thanksgiving weekend," Payner said. "Prior to that, there was a belief that customers just went to the stores."
Amy Colella, a spokeswoman at Wal-Mart Stores Inc., said the discounter was pleased with sales for the Thanksgiving weekend. She noted that Thanksgiving Day was the busiest day online so far this season, with sales doubling from a year ago.
Wal-Mart, which saw online business surge on Thanksgiving Day a year ago, kicked off Internet holiday shopping earlier this year with discounts on such items as diamond bracelets and cappuccino makers.
Still, the rate of online sales growth is not expected to be as strong as the prior year, given the maturing of the Web. Forrester Research projects online holiday sales, including travel, to rise by 20 percent to $13.2 billion. That compares to a 31 percent growth in 2003 over the previous year.
Comscore estimates that online holiday retail sales, excluding travel, will rise between 23 percent and 26 percent, to between $15.1 billion and $15.5 billion. That compares to an increase of 30 percent over the 2002 holiday season figures.
Meanwhile, analysts are hoping for business at traditional retailers to be up anywhere from 3 percent to 4 percent over a year ago.
Copyright 2018 The Associated Press. All rights reserved. This material may not be published, broadcast, rewritten or redistributed. We strive to uphold our values for every story published.