Raymond Harter moved to Lawrence for a fresh start about eight months ago. With some help from the Salvation Army, he has kicked all the old habits: drinking, drugs and bad relationships. Now he has an apartment, a job and a new lease on life. Instead of writing a thank-you note, he is out ringing the bell at the Community Mercantile Co-op four days a week.
Q: How did you get involved with the Salvation Army?
A: I was living in Kansas City, and I was in a relationship where things didn't really work out. I gave up everything and came here for a clean start. To be honest, I had a habit of drinking. I even had a real good job back in Kansas City working for the Burlington Northern-Santa Fe Railroad. I was a transportation officer. I met this woman and one thing led to another. I just wanted to start new. When I got here, I had nowhere to go. I didn't know what to do. The Salvation Army helped me. I got into a program called Project Able. Then my case worker, Vivian Baars, and the Housing Authority helped me find an apartment and a job. They helped me buy dishes, new lamps and blankets. I'm very grateful.
Q: And the bell ringing?
A: Well, I'm doing this temporarily, while I'm looking for something good to come along. I've done the bell ringing at Checkers, Walgreens. The Merc is the best location. The people are awesome. I see all walks of life and the people are very down to earth and liberal. I don't want to leave this location. I have a tendency now to bring in all the grocery carts. They see that and they bring me coffee outside. They're just awesome. The Merc is very helpful with the Salvation Army.
Q: What is the hardest part about ringing the bell?
A: Some of the people don't realize what the bell ringing is all about. A lot of people ask me why I do it or why we start so early. It's about kids and Christmas. We help families pay their rent and get food. We gave away over 100 turkeys before Thanksgiving and boxes of food.
Q: What do you like about it?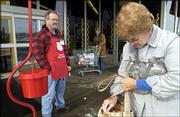 A: I've been doing this for about a month now, and I want to keep at it all the way until Christmas time. I just love it. You get to interact with people. You get humbugs sometimes, but you just tell them, 'Happy holidays and God bless you."
Q: What should people know about the Salvation Army?
A: They just need to get a better understanding of what the Salvation Army does. They don't understand what it's all about. They have a shelter for people, families. They can get a tour or volunteer. Mostly KU students volunteer to serve food. But you could help with the campaigns, like the food drives. Just anything.
Q: Why should people donate to the Salvation Army?
A: They're building a new shelter for families that will be huge. They'll help fathers find jobs and give alcohol and drug treatment. And families will have their own rooms. Project Able will expand and you won't be able to just sit around all day. It's transitional, so you have to look for a job. They'll have classes on computers and money management and GEDs. They're having a hard time raising funds. And, right now, it's the holidays. I don't think any kids should go without during Christmas. They need blankets, towels, any kind of linen. They can donate coats, anything. I'm not a political person but Bush is back in office, and I've heard that the shelters are struggling -- there's just no funds for them anymore. If people could get an understanding, maybe they'd give even a dollar. If everyone gave $1, it would help a lot.
¢ Hometown: Kansas City, Mo.¢ Personal Hero: "My hero is a very lawful man: Clint Eastwood. He was a mayor in California and I love all his movies."¢ Favorite Book: The Bible.
Q: What do you think of the Salvation Army, in general?
A: This is one of the best organizations in the United States. They donated money to the families in Florida with no insurance and no houses anymore. They're great people. It breaks my heart to see the families around here that can't afford Thanksgiving or Christmas. It's awesome how the Salvation Army helps those families. I'm very spiritual when it comes to Christmas.
Q: What did the Salvation Army do for you?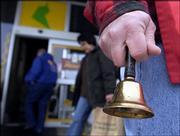 A: If I ever need anything -- financially, spiritually, clothing -- they're there to help me. I love them to death. When I came here, I wasn't spiritual. Now I go to the Salvation Army Church down on New Hampshire every Sunday morning -- nights too sometimes.
Q: How do you like living in Lawrence?
A: I love it here. It's totally different from Kansas City. There isn't a crime wave like there is there, with drugs and carjackings. It's very, very nice and quiet. The people, it seems like, are more caring. It's awesome.
Copyright 2018 The Lawrence Journal-World. All rights reserved. This material may not be published, broadcast, rewritten or redistributed. We strive to uphold our values for every story published.