After winning a critical match Saturday against Colorado to close out the regular season, the Kansas University volleyball squad will learn its postseason fate at 5:45 this afternoon.
KU finished the season tied with the Buffaloes for sixth in the Big 12 Conference after winning three of four games Saturday night in Horejsi Center, 30-22, 29-31, 31-29, 30-19.
The Jayhawks' strong regular-season finish -- they won five of their last seven, including a sweep against then-No. 13 Texas A&M; -- could boost KU into its second consecutive NCAA Tournament.
"I know that they look a lot at how you finish the season," KU senior Ashley Bechard said. "Historically, usually with teams that are tied, they're going to take them both or they're not going to take either of them, so this one really helped us out."
Bechard knocked in KU's match-winning point in a fourth game that was dominated by the Jayhawks' defense. KU (18-11 overall, 9-11 Big 12) notched six blocks in the last game thanks mostly to senior middle blocker Ashley Michaels and junior middle blocker Josi Lima working in tandem at the net.
KU finished the match with a season-high 18 blocks, a total that even made KU coach Ray Bechard incredulous.
"Eighteen blocks, are you kidding me?" Bechard said. "We've been at the other end of that, so it's great to turn that around."
The Jayhawks turned around the match after dropping a close second game and trailing most of the third. KU took a 30-29 lead after a service error by Colorado libero Therese Viñal. The Buffaloes tried to tie the game, but a kill attempt was blocked by Michaels and junior outside hitter Paula Caten.
The final game never was in doubt and was decided nearly as much by Colorado miscues as it was by KU's dominating defense. Colorado senior setter Allison Barnes set the ball close to the net to open the game, but no Buffaloes were paying attention until outside hitter Amber Nu'u clumsily swatted the ball into the net.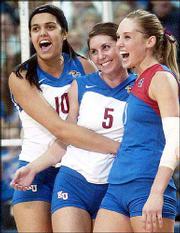 The Jayhawks never trailed the rest of the match.
"Colorado was playing its very best, and it didn't work out for them in game three," Ray Bechard said. "I think there was a little bit of letdown, and we turned it on and dominated from there."
Colorado rarely assumed control in the fourth game. And even when it did, KU defense usually prevented the Buffaloes from keeping a sustained attack. Senior libero Jill Dorsey, playing despite an injured elbow, led all players with 20 digs.
"She's injured, and she came out playing like a champion," Michaels said. "I know her arm is killing her, but she stops the pain and keeps playing better."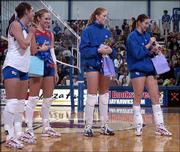 The victory was needed not only to help KU's postseason chances but also to give a fitting sendoff to its four seniors playing their last home game. Dorsey, Ashley Bechard, Michaels and Lindsey Morris' tenures saw seasons of KU's best winning percentages under Ray Bechard.
Each player thanked fans, administrators, family and coaches in a tearful farewell speech after the game.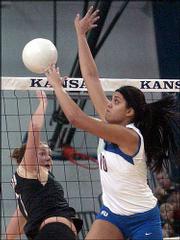 "It was one of the hardest things I've ever had to do," Dorsey said. "I get the mike and you think you're okay, and then the floodgates open and there are tears everywhere."
The Jayhawks will be shedding more tears today -- either joyful or sorrowful -- depending on the NCAA Tournament Committee's decision. A live broadcast of the selection show will air at 5:45 p.m. on ESPNEWS (Sunflower Broadband channel 141).
Copyright 2018 The Lawrence Journal-World. All rights reserved. This material may not be published, broadcast, rewritten or redistributed. We strive to uphold our values for every story published.