New York — Wake Forest's "other guard" had a pretty good Preseason NIT.
Justin Gray scored 21 points for the second straight game, and the top-ranked Demon Deacons beat No. 18 Arizona, 63-60, on Friday night in the championship game of the 16-team tournament, a game that had a March feel to it in late-November.
Gray, overshadowed in his own backcourt by sophomore sensation Chris Paul, was selected as the tournament's most valuable player. He could have earned a red badge of courage as well, having received five stitches over his right eye in the first half of the semifinal victory over Providence. Then, he was kicked near the same spot again in the first half against Arizona.
"I don't get wrapped up in MVPs and things like that. I'm happy for our team," Wake Forest coach Skip Prosser said. "But he has a courage that's contagious."
Paul laughed when he was asked about Gray's injuries.
"He gets hurt all the time. I don't even look any more because I know he's coming back in," Paul said. "He's just Justin."
The loss ended a 15-game winning streak in the Preseason NIT for Arizona (4-2), and it was the first loss in 12 games at Madison Square Garden for Wildcats coach Lute Olson, a run that started in 1973 when he was at Long Beach State.
"It's disappointing, but it isn't because our guys didn't play hard," Olson said. "It wasn't a case of our coming out and not being ready to play. I thought we played with a lot of passion."
Gray was almost all the offense for the Demon Deacons (5-0) during the first 10 minutes of the second half.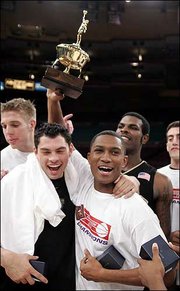 When his teammates started to find their stroke, the Demon Deacons went on a 13-2 run to go up 59-51 with 5:28 left. Arizona rallied to get within 61-60 with 1:26 left on a three-pointer by Hassan Adams.
Gray missed the front end of a one-and-one with 24 seconds left. Arizona had one timeout left, but Olson didn't call it. Shakur dribbled the ball at the top of the key and started his move with seven seconds left. His jumper from about eight feet was short.
Eric Williams made two free throws for Wake Forest with 1.2 seconds left, and Arizona's chance to tie ended when Adams' turnaround three-point attempt at the buzzer bounced off the rim.
The Wildcats won the Preseason NIT the last three times it participated -- 1990, '95 and '99.
It was the first Preseason NIT title for Wake Forest, which finished second in 2001.
Taron Downey had 11 points and 10 rebounds for Wake Forest, which became No. 1 this week for the first time in school history earlier this week, while Jamaal Levy had eight points and 12 rebounds.
No. 3 Georgia Tech 79, Arkansas-Little Rock 54
Atlanta -- B.J. Elder scored 23 points, Georgia Tech started with a 23-2 run, and the Yellow Jackets cruised past Arkansas-Little Rock. Georgia Tech (3-0) had an easy time after struggling to a 60-59 victory at Illinois-Chicago on Monday. But the victory was marred by a sickening injury to freshman Jeremis Smith, who already was emerging as a key player off the bench. He went down with less than two minutes remaining, screaming in pain after he dislocated his right knee cap.
No. 8 Kentucky 77, Georgia State 59
Lexington, Ky. -- Chuck Hayes and Kelenna Azubuike each had 16 points and nine rebounds, leading Kentucky past Georgia State. Freshman center Randolph Morris added 14 points and nine rebounds for the Wildcats (3-0), who recorded their third lopsided victory in three games this season.
No. 13 Maryland 84, No. 25 Memphis 61
Springfield, Mass. -- John Gilchrist had 16 points and 10 rebounds and led a scrappy defense that helped Maryland run past Memphis. Nik Caner-Medley added 15 points for Maryland (3-0), which led 37-29 at halftime, then scored the first seven points of the second half before taking a 28-point lead with 10 minutes to go. Most of the Terrapins' baskets in that stretch came on layups and fastbreaks.
No. 17 N.C. State 99, Campbell 44
Raleigh, N.C. -- Cameron Bennerman scored 20 points to lead North Carolina State past Campbell, marking its fourth straight lopsided victory to start the season. Julius Hodge added 16 points, seven rebounds and seven assists for the Wolfpack, who shot 70 percent in the second half and committed just six turnovers for the game. Diago Aguiar scored 16 points for the Fighting Camels (1-2).
No. 19 Alabama 78, Minnesota 72
Anchorage, Alaska -- Earnest Shelton made five three-pointers and scored 29 points to lead Alabama over Minnesota in the semifinals of the Great Alaska Shootout. Shelton scored nine of the Crimson Tide's last 15 points to hold off a Golden Gophers second-half rally in which Minnesota pulled within two at 70-68 with a minute to play. Alabama made eight free throws in the final minute.
No. 21 Notre Dame 54, Charleston Southern 38
South Bend, Ind. -- Chris Quinn scored 14 of his 17 points in the second half, Chris Thomas added 15 points, and Notre Dame held Charleston Southern to 16 points in the second half. The 38 points were the second fewest allowed at the Joyce Center, which opened for the 1968-69 season.
Copyright 2018 The Associated Press. All rights reserved. This material may not be published, broadcast, rewritten or redistributed. We strive to uphold our values for every story published.