RICHMOND — After surviving two accidents this year that left other people dead, Andy Potts is giving thanks that he's alive.
Potts, a 21-year-old Baker University student, is bedridden because of injuries he suffered in the second accident, but he's not complaining.
"Someone died in both of them," Potts said during an interview at his Richmond home. "It's hard to explain (why I'm alive)."
On April 13, Potts was driving west on U.S. Highway 56 about a mile west of Baldwin with Shawn Trager, 19, and Aaron Trager, 20, brothers from Chillicothe, Mo., who attended Baker University and played with Potts on the football team.
The car was struck from behind by a westbound tractor-trailer and was pushed into the eastbound lane. It was struck by a van and was knocked back into the westbound lane, where it hit the semi's trailer.
Shawn Trager died in the accident. Aaron Trager was injured, and Potts suffered a deep scalp wound and back injuries.
The truck driver, Yan R. McHenry, tested positive for cocaine use and was charged with involuntary manslaughter and aggravated battery, both felonies. He was found guilty of vehicular manslaughter, a misdemeanor. He was sentenced this week to one year in jail; with credit for time already served he will be locked up for about four more months.
"I feel so bad for the family," Potts said. "I don't have a brother or a sister, so I can't imagine what it must be like."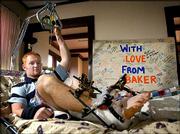 By September, Potts' injuries were healed and he was back for another semester at Baker.
But on Sept. 24, he was driving from Ottawa to Baldwin City on U.S. 59 when a car driven by Arthur G. Meade, of Neosho Rapids, crossed the center line three miles north of Ottawa and hit Potts' car head-on.
Meade died at the scene. Potts was taken to The University of Kansas Hospital in Kansas City, Kan., where medical personnel didn't think he would make it through the night.
He suffered a fractured skull, a fractured clavicle, a ruptured diaphragm, broken ribs, a collapsed lung, a compound fracture of his right arm, a fractured pelvis, a shattered femur and ankle and torn ligaments in his knee.
Potts stayed at the hospital for more than a month and has had eight surgeries so far.
He is at home now, but is confined to a bed and can't stand on his own. He will wear a large metal brace on his right leg for at least another month. It stabilizes the screws and pins holding his fractured leg bones together.
His mother, Cindy Edwards, said her son will need from 12 to 18 months of additional rehabilitation. But doctors believe he will regain the use of his limbs.
Potts and his mother said friends, family and prayers have seen them through the past few months.
"(The prayers) saved his life," his mother said. "He had injuries that should have killed him. He lost his blood volume nine times. He should have had a horrible head or spine injury. It's difficult to explain it any other way."
Potts believes he is alive for a reason.
"I don't know what it is yet," he said. "I'm going to try to (figure it out). I just want to be successful in whatever I do."
Copyright 2018 The Associated Press. All rights reserved. This material may not be published, broadcast, rewritten or redistributed. We strive to uphold our values for every story published.