Lawrence resident Scott Morgan and his wife, Kathleen O'Leary Morgan, caused a nationwide uproar this week.
A city official in St. Louis called them "charlatans." The mayor of Camden, N.J., said she was "disgusted" by their work.
"We've got all sorts of people mad at us: the mayor of Atlanta, the Macon (Ga.) police chief," Scott Morgan said.
The Morgans' research and publishing company, Morgan Quitno Press, on Monday announced its 11th annual "Safest & Most Dangerous Cities" awards. The report listed Camden as the most dangerous city and Newton, Mass., as the safest.
Lawrence was the 122nd safest out of the 354 cities included in the study, but it slipped compared with last year, when it ranked 87th out of 350 cities studied. Wichita was the 186th safest, and Topeka came in at 219, according to the study.
Of the 124 cities studied with populations between 75,000 and 100,000, Lawrence came in as the 62nd safest.
Morgan bases his numbers on Uniform Crime Reporting statistics submitted each year by local police to the FBI. The rankings analyze the number of rapes, murders, robberies, assaults, burglaries and auto thefts per 100,000 residents.
Lawrence Police spokesman Sgt. Dan Ward said the numbers reported to the FBI weren't detailed enough for true crime analysis. One reason is that they include only the most serious crime in any one incident.
For example, if someone were murdered, robbed and burglarized, the incident only would count as a murder.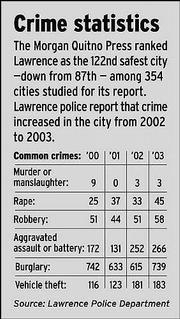 Morgan's rankings include only a few categories of crime, Ward said, and there are many factors that can cause the numbers to rise and fall.
"For example, a rise in the number of reports could be a sign of customer satisfaction," he said. "When citizens feel their police department is doing a good job, they are more likely to report criminal offenses because they believe something will be done about it."
Morgan, 47, a former school board member, said the numbers were valuable despite their limitations.
"I feel as safe here now as I did 10 years ago, so from a personal standpoint, I'm OK with where we are," he said. "I don't want to see Lawrence start slipping down in rankings like this. I think it matters."
Morgan Quitno also ranks states annually for their livability, health and education. In 2002 the company caught the attention of Miami-based humor columnist Dave Barry, who, after Florida was named 47th smartest state, wrote that Kansas was the "stupidest" state. Barry's main reason was that Kansas is home to Morgan Quitno Press.
Morgan said the crime rankings were featured this week on CNN, Fox News and AOL, among other media outlets. An online search found more than 270 references to the awards in news outlets nationwide.
In general, city officials are pleased when they come in high in the rankings, Morgan said. If they come in near the bottom, he said, they often attack the company.
"We're always just these idiots out in Lawrence, Kan.," he said. "It's always amazing the bizarre interest Americans have in these kinds of rankings."
Copyright 2017 The Lawrence Journal-World. All rights reserved. This material may not be published, broadcast, rewritten or redistributed. We strive to uphold our values for every story published.