Kansas University's men's basketball team could be adding a major-college transfer to its roster in the near future.
Rodrick Stewart, a 6-foot-4 sophomore who Nov. 6 announced his intention to leave the University of Southern California, attended Tuesday's KU-Saint Joseph's game as part of a campus visit.
Stewart, a former teammate of KU freshman C.J. Giles at Seattle's Rainier Beach High, is the twin brother of Lodrick Stewart, who has remained at USC.
Rodrick Stewart, who averaged 4.4 points and 2.2 rebounds a game while starting 17 of 27 games his freshman year at USC, had been declared ineligible for the first semester this season because of unspecified academic issues.
If Stewart chooses KU, he would enroll for second semester and be eligible to play the second semester of the 2005-06 season. His last day at USC will be Dec. 15.
"It's the best place I've been so far. It's great," Stewart said before Tuesday's game. "I'll probably make my decision when I go back for Thanksgiving, probably in a week. I'll talk to my dad and make a decision if I want to make more visits or not."
Stewart makes it sound as if his destination will be Kansas.
"I can't see anything getting better than this," said Stewart, who also is considering visiting Gonzaga and Oklahoma State.
Stewart has known KU assistant coach Kurtis Townsend since he was in seventh grade. Townsend, a former Michigan assistant, recruited former Rainier Beach standout Jamal Crawford to Michigan.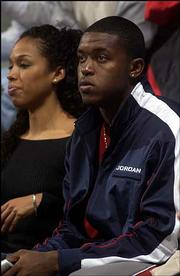 Crawford was a mentor to the Stewart twins.
"I've known Kurtis all my high school career," Stewart said. "I was like C.J.'s mentor (as teammate of Giles at Rainier Beach). I sort of carried him on my back, trying to help him out. He's going to be a real good player."
Those who know Stewart believe KU is the likely destination.
"He likes Kansas and the people really well," Rodrick's dad, Bull Stewart, said Tuesday. "He thinks they're cool. He's excited about it more than any school he's ever visited, and he's made a lot of visits."
Stewart, who chose USC over Washington in high school, was a strong red-shirt candidate at USC partly because of academic issues and partly because coach Henry Bibby didn't predict a lot of playing time.
"I think there's a point in time, like Harvey and Horace Grant, as twins you have to go your separate ways," said Mike Bethea, Stewart's high school coach, said Tuesday.
Bethea said Stewart, who hit just 34.4 percent of his shots as a freshman including three of 30 threes, had great skills that could be developed at Kansas.
Copyright 2018 The Lawrence Journal-World. All rights reserved. This material may not be published, broadcast, rewritten or redistributed. We strive to uphold our values for every story published.