New York — Dan Rather announced Tuesday he would resign in March as CBS News anchor, catching many by surprise just weeks before the release of a report that is expected to criticize his role in a now-discredited story about President Bush's National Guard service.
Network officials said that Rather, 73, had discussed his resignation with them last summer, well before the airing of the ill-fated "60 Minutes" story in September. The veteran journalist, who has anchored the evening news for nearly 24 years, will continue to report for "60 Minutes."
Rather wanted his resignation to be separate from the release of the outside panel's report, said CBS Chairman Leslie Moonves. "He's going out on his own terms after serving us long and well," Moonves said.
In an interview Tuesday, Rather said he's not retiring. "I'm going to throw myself into both '60 Minutes' broadcasts," he said. "My best work is still ahead of me."
But observers said his early exit from the "CBS Evening News with Dan Rather" was a way for the network to minimize embarrassment over the Bush story. In a news broadcast subsequent to the Sept. 8 show, Rather apologized and admitted he was misled by sources. He said he had relied on unverified documents to allege that the president got preferential treatment while in the military.
Rather's resignation will follow Tom Brokaw's Dec. 1 exit from "NBC Nightly News," and comes at a time when the influence of network evening newscasts has been eroding. Their share of the national audience has been shrinking, given competition from the relentless, 24-hour news cycle of cable and the growth of the Internet as a source of news and information.
Indeed, much of the criticism of the "60 Minutes" broadcast on Bush came initially from online bloggers, and their critiques spread rapidly through the rest of the media.
An independent investigation of the Sept. 8 broadcast is being conducted by Louis D. Boccardi, a former head of The Associated Press, and Dick Thornburgh, a former attorney general. The panel, appointed by network officials, has interviewed several dozen people inside CBS and is expected to submit its findings next month.
As news spread about Rather's plans to step down on March 9, speculation began focusing on two possible successors: CBS White House correspondent John Roberts, and Scott Pelley, a reporter for "60 Minutes Wednesday."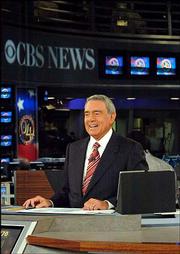 Pelley substituted some for Rather over the summer on the "Evening News." But Roberts, who had a prominent role analyzing exit polls on election night, is widely thought to have the inside track if CBS does not decide to recruit from outside the network.
Moonves said CBS would not choose a successor until after New Year's Day. He would not elaborate on whether CBS was looking for young stars or celebrity names.
Rather described his decision to leave the anchor's job as bittersweet and praised his colleagues at CBS News. "I love this job," he said. "Someone asked me if I was going to go for my 25th anniversary, and I said, 'No I'm going to go for the 35th.' But life's not like that.
"This feels right," he said, including what he called the symmetry of stepping down on his 24th anniversary.
The anchorman, who has long prided himself on his high standards, added that "I won't know how I feel about (the investigation) until the panel submits its report. I don't know what the last line will be, but I'm obviously very interested."
Bogus story
In the "60 Minutes" story, which was produced by CBS veteran Mary Mapes, Rather reported that newly unearthed military records showed Bush got preferential treatment to gain admission to the Texas Air National Guard, and then failed to follow orders while in the service.
But the network was forced to backtrack under a wave of criticism that the documents were phony. In an embarrassing followup, Rather admitted that the source who had given CBS the documents had not told the truth about them, and that their authenticity could not be proven.
Tough competition
Rather is ending his career as an anchor at a time when network news faces stiff competition from opinionated and attitude-filled cable shows, whether from Fox News Channel or Comedy Central's "Daily Show" with John Stewart. As a result, network news ratings have been steadily declining in recent years, and "CBS Evening News" has been ranked number three for a decade, lagging far behind "NBC Nightly News" and "ABC's World News Tonight."
In recent months, NBC's lead has widened substantially, according to Nielsen Media Research data. Last week, NBC's newscast drew an average 10.8 million viewers, 43 percent over CBS's 7.5 million viewers.
Copyright 2018 The Lawrence Journal-World. All rights reserved. This material may not be published, broadcast, rewritten or redistributed. We strive to uphold our values for every story published.