One of the city's most staunch advocates for the homeless is stepping down.
Tami Clark said Monday she was resigning her position at the Community Drop-In Center effective Jan. 14.
"This is a job that, for me, has been very rewarding. I've met so many wonderful people," said Clark, the center's executive director since September 2000. "But it's also a job that's very consuming. I need to take a break, regroup and focus on my family."
Clark, 36, and her husband, Steve, have a 12-year-old son, Brendon.
The soft-spoken Clark has been a key player in recent efforts to expand services for the city's homeless population.
"We've accomplished a lot in the last four years," she said. "We have a staff of three, now. Three years ago, it was one -- me."
Also, the Drop-In Center, Salvation Army and Lawrence Open Shelter changed their hours of operation in September, giving the homeless 24-hour access to shelters.
Before the change, the Drop-In Center, 214 W. 10th St., closed at noon Monday through Friday. Now it's open until 5 p.m. seven days a week.
Clark's peers said she would be missed.
"She's done a great job," said Steve Ozark, co-chairman of the Lawrence Coalition on Homeless Concerns. "She's put us on stable ground. We're at a place now where we can grow without her. I didn't sense that was the case before her tenure."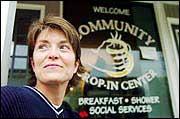 Chris Collins said there was a good chance he would still be homeless if it weren't for Clark.
"She has a heart of gold," said Collins, who had been homeless in Lawrence for about 18 months when Clark helped him qualify for subsidized housing in October 2003.
"As long as I've known Tami, she's never been one to judge people on face value," Collins said. "If you came in wearing a suit or dressed in rags, it didn't matter. She treated everyone the same, with love and respect."
A 2000 graduate of Kansas University's School of Social Welfare, Clark was the Drop-In Center's first employee.
"I had no idea what I was getting into, but as soon as I saw the ad in the newspaper I knew this was the right job for me," she said.
Most of the city's homeless, she said, are "good people who've either made poor decisions or are victims of circumstance."
Their numbers, she said, appear to be increasing.
"We're seeing a lot of new people this year," she said. "And the number of people who are experiencing some sort of mental illness is up, too. That's frustrating because the facilities available to them are either full or hard to get into, which means you're left with vulnerable people who have no way to change."
After taking a few weeks off, Clark said she hoped to find a job working with senior citizens.
Clark's successor at the Drop-In Center has not been announced.
"It's too early to comment on that," said Marceil Lauppe, chairwoman of the center's board of directors.
Copyright 2018 The Lawrence Journal-World. All rights reserved. This material may not be published, broadcast, rewritten or redistributed. We strive to uphold our values for every story published.