Cincinnati — Jerome Bettis and Pittsburgh's defense made quite a posse.
Bettis ran for 129 yards, and the Steelers' blitzing defense created havoc Sunday, setting up a 19-14 victory over the Cincinnati Bengals that kept the NFL's longest winning streak growing.
Quarterback Ben Roethlisberger played like a rookie, so Bettis, the 32-year-old running back, and the old-style defense bailed Roethlisberger out in Pittsburgh's eighth straight win. The Steelers are 9-1 for the first time since 1978, when they won their third Super Bowl in five years.
"Everybody expects us to be flawless," Bettis said. "Sometimes you're not going to have your best game. That's when you have to find a way to win."
They took an old, familiar path: run the ball and let the defense do the rest, taking the pressure off the kid quarterback.
Roethlisberger has earned comparisons to Terry Bradshaw during his remarkable introductory season with eight starts, all wins.
The Bengals (4-6) came at him from all sides, had a season-high seven sacks and forced him to make poor decisions. Three times, he scuttled scoring chances by taking sacks, grounding the ball or fumbling.
"On a lot of the sacks, I take the blame," said Roethlisberger, who was 15-of-21 for 138 yards, but lost 54 yards on sacks. "I wasn't flustered, just disappointed in my play."
With Duce Staley sidelined a third straight game because of a sore hamstring, Bettis came through with his third straight triple-digit game. He repeatedly bowled over tacklers during his 11th 100-yard performance against the Bengals, and he moved ahead of Tony Dorsett for fifth place on the NFL's career rushing list.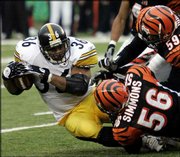 Bettis decided to stay in Pittsburgh as a backup, opening the season as a designated goal-line runner. Sunday, he was the whole show -- one opponents have seen many times before.
"It reminds me of Steeler football, the way we've played since I've been here," said Bettis, in his ninth season with Pittsburgh. "That's important."
After Roethlisberger put the Steelers up 17-14 with an eight-yard touchdown pass to Dan Kreider in the third quarter, the defense did the rest, stifling Carson Palmer's passing and Cincinnati's playoff hopes.
Linebacker James Farrior had a 14-yard interception return that blunted the Bengals' momentum in the first half.
In the second half, Cincinnati's offense managed only 42 yards and two first downs. Everything imploded: Cincinnati had seven second-half penalties for 75 yards.
Eagles 28, Redskins 6
Philadelphia -- Donovan McNabb tied a career high with four touchdown passes, and the Eagles improved to 9-1 for the first time since the 1980 season, when they opened 11-1 and went to the Super Bowl.
McNabb threw two TD passes to Brian Westbrook and one each to Terrell Owens and Chad Lewis. It was his second straight four-TD performance, fourth of the season and sixth in his six-year career.
Bills 37, Rams 17
Orchard Park, N.Y. -- Drew Bledsoe answered his critics by hitting tight end Mark Campbell for three touchdowns, and Nate Clements returned a punt 86 yards for a score.
It was a dominating effort by a Buffalo team (4-6) that has won four straight at home, but was coming off its worst outing of the season, a 29-6 loss at New England. Bledsoe answered those calling for rookie J.P. Losman to take over as starter, going 15-of-24 for 185 yards. His only blemish was an interception off Lee Evans' hand.
Falcons 14, Giants 10
East Rutherford, N.J. -- Michael Vick ran for 104 yards and threw two first-half touchdown passes to Alge Crumpler to lead the Falcons (8-2), spoiling Eli Manning's first start. After a shaky first half, Manning showed why the Giants (5-5) mortgaged their future on draft day. He led New York on two second-half drives.
Vikings 22, Lions 19
Minneapolis -- Daunte Culpepper guided the Vikings on another second-half comeback, and this time the defense was good enough to make the rally count. The Vikings, ending a three-game losing streak, shut out Detroit in the second half and overcame a 12-point deficit in the fourth quarter to beat the sliding Lions. Culpepper completed 22 of 32 passes for 233 yards, two touchdowns and an interception for Minnesota (6-4), which hounded Joey Harrington in the second half. The Vikings again played without Randy Moss (right hamstring).
Seahawks 24, Dolphins 17
Seattle -- Michael Boulware intercepted a pass by A.J. Feeley and returned it 63 yards for a touchdown with 56 seconds remaining. It was the fourth time this season Feeley has had an interception returned for a TD, and his mistake spoiled the debut of interim coach Jim Bates.
Titans 18, Jaguars 15
Jacksonville, Fla.-- Steve McNair returned to the lineup for the first time in a month, throwing a touchdown pass and directing two other scoring drives. McNair finished 18-of-30 for 209 yards despite showing signs of rust. The reigning league co-MVP bruised his chest Sept. 26 against Jacksonville and aggravated the injury a month later against Minnesota.
Ravens 30, Cowboys 10
Baltimore -- Down at halftime and playing without injured running back Jamal Lewis, the Ravens turned to Kyle Boller to ruin an inspired performance by the Dallas defense. Showing the poise and confidence of a rapidly maturing quarterback, Boller threw two touchdown passes in the third quarter. Boller went 23-for-34 for 232 yards in his third straight game without an interception. The Ravens (7-3) have five wins in their last six games.
Broncos 34, Saints 13
New Orleans -- Reuben Droughns ran for 166 yards and a score, Jake Plummer threw for 224 yards, and the Broncos stayed atop the AFC West. The Broncos (7-3) have gone 12-12 to close out the last three seasons, but looked strong coming off their bye week. Denver had 389 yards in offense and held the Saints to one touchdown.
Jets 10, Browns 7
Cleveland -- Quincy Carter threw an 11-yard touchdown pass to Justin McCareins with 5:32 remaining to give the Jets (7-3) an ugly win. New York's LaMont Jordan, filling in for a banged-up Curtis Martin, rushed for 61 yards in the fourth quarter. He ground out 34 yards as the Jets ran out the final 3:55 to hand the Browns (3-7) their fourth straight loss. Martin rushed for 88 yards on 17 carries.
Colts 41, Bears 10
Chicago -- Edgerrin James punished the Bears' defense with 204 yards on 23 carries, and Peyton Manning threw four more touchdown passes. The Colts (7-3) feasted on five Chicago turnovers, four by shaky rookie quarterback Craig Krenzel, who lost two fumbles and threw two interceptions as the Bears' three-game winning streak ended with a thud. James, whose career best is 219 yards set in 2000 against Seattle, scored on an 11-yard TD run with 42 seconds to go in the third quarter to make it 41-3.
Chargers 23, Raiders 17
Oakland, Calif.-- Antonio Gates had eight receptions for 101 yards and a touchdown, LaDainian Tomlinson ran for 164 yards and a score on 37 carries, and the Chargers won their fourth straight game. Drew Brees passed for 226 yards and also ran for a touchdown to help the Chargers (7-3) beat the Raiders (3-7) for the second time in three weeks. Kerry Collins went 18-for-30 for 227 yards and two touchdowns.
Buccaneers 35, 49ers 3
Tampa, Fla. -- Joe Jurevicius scored his first touchdowns since last year's season opener, getting into the end zone twice on passes from Brian Griese. The victory was the fourth in six games after an 0-4 start for Tampa Bay (4-6). The 49ers (1-9) have lost five straight and were held to just 197 yards offense, with Tim Rattay being sacked five times and turning the ball over twice.
Panthers 35, Cardinals 10
Charlotte, N.C.-- Nick Goings ran for 121 yards and three first-half scores, and the Panthers jumped to a 28-point halftime lead. Muhsin Muhammad added two TD catches, the first with just two seconds left before halftime, for the Panthers (3-7).
Packers 16, Texans 13
Houston -- Brett Favre moved Green Bay into scoring position with a flawless two-minute drill, and Ryan Longwell kicked a 46-yard field goal as time expired. Favre completed six of seven passes for 42 yards on the final drive -- the only incompletion came when he spiked the ball to stop the clock -- to complete Green Bay's rally from a 10-point deficit in the fourth quarter. He finished 33-of-50 for 383 yards with two interceptions and a touchdown to Houston native Donald Driver in the fourth period.
Copyright 2017 The Associated Press. All rights reserved. This material may not be published, broadcast, rewritten or redistributed. We strive to uphold our values for every story published.