Norman, Okla. — Taj Gray's Oklahoma basketball debut ended much better than it started.
Gray scored 22 of his points in the second half Saturday as Oklahoma (1-0) recovered from a 12-point first-half deficit to win its first-ever meeting with Cal State-Northridge, 82-72.
After a first half that saw the Sooners falling behind early, the two teams swapped the lead seven times in the second half before Oklahoma pulled away in the final three minutes aided by Gray.
Gray's free throws gave Oklahoma the lead with 2:55 remaining. He added to that with a dunk off Drew Lavender's steal, fueling a 9-0 Sooner rally.
Cal State-Northridge's coach lauded Gray.
"He's a beast down there," Bobby Braswell said. "He's tough to guard."
Playing against a team that returned five starters from last season, Oklahoma's youth showed early. Scoring droughts lasted two to three minutes for the Sooners, and the team turned the ball over 11 times.
Forward Kevin Bookout kept the Sooners from falling farther behind, posting 10 points in the opening 20 minutes.
Women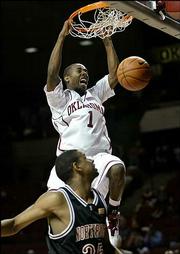 Iowa 75, Missouri 54
Iowa City, Iowa -- Crystal Smith scored a career-high 26 points, and Jamie Cavey added 13, leading Iowa to a 75-54 victory over Missouri in the championship game of the Hawkeye Challenge.
Smith, a junior, never before had scored more than 10 points in a game. But she got away from Missouri all day, going 9-for-14 from the field with a three-pointer and making all seven of her free throws.
Cavey finished 5-for-7 as the Hawkeyes (2-0) shot 53 percent and held Missouri (1-1) to 36 percent shooting.
LaToya Bond led Missouri with 14 points, and Christelle N'Garsanet scored 10.
Texas A&M; 68,
Bucknell 53
Miami -- Tamea Scales scored 21 points and grabbed 13 rebounds, leading Texas A&M; in the consolation game of the Miami Jam tournament. Scales was 7-of-11 from the floor for the Aggies (1-1), whose defense and inside game made up for hot shooting by Bucknell (0-2).
Copyright 2018 The Associated Press. All rights reserved. This material may not be published, broadcast, rewritten or redistributed. We strive to uphold our values for every story published.