Wayne Simien asked a question of his own while seated comfortably in the interview room after Kansas University's 68-61 basketball victory over Vermont on Friday at Allen Fieldhouse.
"Who scheduled that? The first game of the season is supposed to be easy," Simien, KU's Preseason All-American, exclaimed with a big grin after making it look easy personally with 25 points and 14 rebounds.
"That's why they've been to the NCAA Tournament back to back. They gave us a great game tonight. We were fortunate enough to get a win."
KU coach Bill Self said he expected Vermont to return to the NCAAs a third straight year. Same goes for senior Keith Langford, who struggled from the perimeter versus the Catamounts with 3-of-10 shooting.
"I read ESPN Magazine yesterday. It said they've got four or five seniors and had some interesting things to say about them. It's not like these guys are a bunch of stiffs. They've got a great coach and seniors," Langford said.
Yet the Catamounts entered unranked, while the Jayhawks opened the game No. 1 in the land.
"The No. 1 by the Kansas name is cute," Langford said, "but it doesn't mean anything. So many teams play easy schedules they get a false sense of where they are. Anybody can beat anybody on a given night.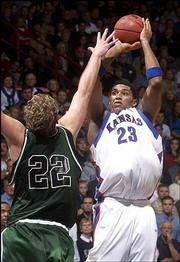 "Everybody likes to win by 50, but that was good for us."
The Jayhawks were impressed with Vermont power forward Taylor Coppenrath, an All-America candidate who hit nine of 18 shots -- but just five of 12 free throws -- for 23 points.
"He's one of the best I've faced," Simien said.
KU also was impressed by guard T.J. Sorrentine, who hit two 24-foot three-pointers and finished with just 13 points off 4-of-22 shooting.
"Aaron did a great job on him, a great job," coach Self said of Aaron Miles. "He made two that were bad shots. They were way out there, maybe not bad shots for him, but bad shots for any other human."
Copyright 2018 The Lawrence Journal-World. All rights reserved. This material may not be published, broadcast, rewritten or redistributed. We strive to uphold our values for every story published.