Having lured customers with nostalgic ads -- "Your grandmother shopped at Hanna's, and your mother shopped at Hanna's" -- Jerry Grammer has come to an inescapable conclusion.
Not enough members of the next generation are shopping at Hanna's to keep the place open into the next year.
"We have a lot of loyal customers -- a lot of loyal customers -- but that's just not enough," said Grammer, co-owner of the store at 933 Mass. "I'm really sad about it. We wanted to make it another 10 years, but it didn't work out."
Hanna's Appliance & TV, a downtown fixture since 1946, will close by the end of the year, the victim of too much competition and not enough resources.
Grammer figures he'd need $20,000 a month to spend on advertising to counter the strength of Nebraska Furniture Mart, Home Depot, Best Buy and Factory Direct Appliance -- four larger competitors who have entered the Lawrence-area market since Grammer and his wife, Virginia, bought the downtown store in 1996.
But with sales off 35 percent since the 9-11 terror attacks three years ago, the Grammers no longer have enough money available to retain the store's longtime business plan: Offer top brands, free delivery, on-staff service and personal attention to customers, all from a little 2,000-square-foot shop in the heart of downtown.
Moving the store's $200,000 inventory is tough when a competitor can clear that much in a single day.
'Strictly a business decision'
"It's strictly a business decision," Jerry Grammer said. "The pie's been cut into too many slices."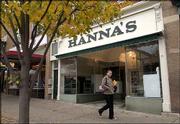 The Hanna's exit again will leave downtown without one of its stalwart businesses, as the central business district shifts from big-ticket retail to restaurants, bars, entertainment venues and specialty shops.
Stoneback Appliance moved out a few years ago, heading to its current home in the Hillcrest Shopping Center at Ninth and Iowa streets. Raney Drug, J.C. Penney, Woolworth's and a handful of car dealerships all used to call downtown home, replaced by Kinko's, an antique mall, bookstores and other shops that can survive and even thrive despite national chains and other retailers popping up along the city's ever-expanding borders.
Hanna's still attracts customers from Eudora, Baldwin, Lecompton, Topeka and even the Kansas City area, Jerry Grammer said, but the proliferation of major outlets is making such sales increasingly difficult.
Hanna's offers Amana, Maytag, Frigidaire and Jenn-Air products, Virginia Grammer said, but larger stores offer more models from those lines, plus a wide array of other products that a downtown storefront couldn't possibly stock.
"It's becoming really different downtown, with all the eating places going in," she said. "An appliance store, nowadays, is so big that there are just a lot of choices that a small store can't offer. We can, if people want to order things, but people don't want to wait."
'End of an era'
The Grammers -- both graduates of Lawrence High School -- bought Hanna's in 1996 from Hovey "Bud" Hanna, whose family had opened the place after World War II. The Hanna family still owns the building, where the loss of the store will leave more than a hole to fill.
"It will be the end of an era," said Jennifer Hanna Coen, "Bud" Hanna's daughter.
Before returning home to Lawrence, Jerry Grammer had spent 35 years in the auto business in Salina, where he worked his way up from car washer to general manager and a co-owner of J.J. Motors.
The appliance business had been a perfect fit, which only makes departing so painful.
"It doesn't feel real good," Jerry Grammer said. "What I really worry about is the customer being taken care of. That's a real big concern. Where are these people going to go for service? I mean, there are some independent services around, but that's not like -- it'd be like a car dealership not having a service department. I wouldn't buy a new Chevrolet or Dodge or Ford unless I could get service where I bought it.
"I don't understand why these big boxes have become so popular, but they have, and that's the new era we're talking about."
Copyright 2018 The Lawrence Journal-World. All rights reserved. This material may not be published, broadcast, rewritten or redistributed. We strive to uphold our values for every story published.