Haskell Indian Nations University men's basketball coach Jamie Morrison has waited all season to see a surge from his team when it was down.
His prayers were answered Thursday night when the Fightin' Indians erased a 15-point second-half deficit to force overtime against Baker University. The Wildcats, though, held on for a 93-86 victory in overtime, their second win over HINU this season.
"Once we got some baskets, I knew the crowd would get into it," Morrison said. "All year we've been kind of looking for that surge, and it hasn't happened. Tonight, we finally made some shots at some key times."
Haskell looked exhausted heading to the locker room at halftime, trailing 37-29 and showing the effects of Tuesday's 84-66 thrashing by Graceland.
In the second half, Baker sophomore guard D.J. Watkins, a Lawrence High graduate, went on an individual 6-0 run to push the Wildcats ahead 56-41 with just more than 12 minutes remaining.
After a timeout, Baker went 1-for-8 from the free-throw line during the next two minutes, opening the door for a Haskell run.
While the Wildcats were struggling to hit the easiest shot in basketball, four three-pointers keyed an 18-3 bulge by the Indians, who tied the game with 8:36 left.
"I felt that all this was gonna come down to was if we could come out in the second half and throw that first punch to get back into the game," Morrison said. "We didn't, but we found something inside and threw a big punch."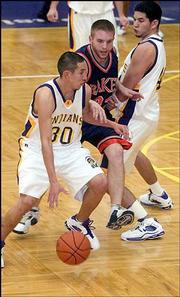 The teams swapped blows the rest of the second half, and Haskell was in need of another clutch performance, trailing 74-71 with less than a minute remaining. It was delivered by sophomore back-up guard Jamison King, who stroked a three from the top of the key with :32.7 on the clock.
"I wasn't sure," King said of whether he thought the shot was going to be good. "I got a little space, and that's all I needed."
Baker junior guard David Ward had an open look from three just before the buzzer, but misfired.
Free-throw woes had Baker coach Rick Weaver stomping at a feverish pace on the sideline just minutes earlier, but he knew his kids could come around when it mattered most.
Watkins had four of the Wildcats' 14 free throws in overtime and also was a catalyst on defense, helping shut down the exhausted Indians.
"The key for us and where we lost momentum was with the missed free throws in the second half," Weaver said. "I knew sooner or later we'd start making a few. Watkins is a real good free-throw shooter, and he had made like 20 in a row earlier in the year."
Watkins led the Wildcats with 17 points and contributed six rebounds.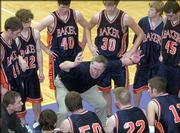 Haskell had four players score in double figures, led by sophomore guard Chad Kaler, who notched a game-high 19 points.
Morrison saw his team's best effort of the season Thursday. Even though his kids sent Baker to the free-throw line 57 times, there still was a reason to be optimistic for Saturday's home game against Bacone College.
"It's pretty disappointing, especially with the way we've struggled all year," he said. "But, I'm a lot more excited to get back on the floor Saturday than I was tonight after our game on Tuesday."
Copyright 2018 The Lawrence Journal-World. All rights reserved. This material may not be published, broadcast, rewritten or redistributed. We strive to uphold our values for every story published.