A shop that caters to sidewalk surfers is closing Saturday after nearly a decade in downtown Lawrence.
The closing of Let It Ride, 15 E. Seventh St., has been in the works for months, owner John Niswonger said, but a last-ditch attempt to hang through the holidays just didn't make sense.
"We tried," he said. "The sales just aren't there."
Since 1995, the shop has sold decks, wheels, bearings, trucks, stickers, T-shirts, hats, shoes and other skating accessories downtown, beginning at the corner of Sixth and Vermont streets. Three years later it moved to its current location upstairs from Java Break, a popular coffee shop at the corner of Seventh and New Hampshire streets.
The shop quickly became the go-to place for skaters congregating at the city's skate park in Centennial Park, a $120,000 project that opened in December 1998. The skate park lent legitimacy to a sport that had been budding in the Lawrence area, but had long since secured firm footing in California and other areas.
The business peaked with about 400 regular customers in 2000-2001, Niswonger said, but the number since then has dwindled to about 200.
The proliferation of Internet sales sites and even increasingly lifelike video games have taken their toll on the business, said Niswonger, whose business, employees and shoppers all helped build Lawrence's skate scene.
"Skating's still really big," he said. "The park's real popular, so I don't know what's happened. It's a good market, but I'm just tired of trying to make it work."
While Niswonger ventures off into "real work" -- likely as a carpenter or a house painter -- Let It Ride's customers will be left to find new skating outlets, both commercial and social.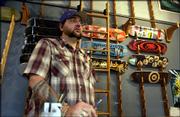 Adam Denny, after having hung out in the shop for the past nine years, can think of only one good thing to come out of the shop's impending closure.
"Maybe I'll skate more," the 20-year-old said Thursday afternoon, hand-rolling a Midwest Special cigarette on the shop's carpet-covered counter. "I don't know what else."
Mike Moreno liked the shop so much that he's been volunteering as a sales clerk and board mechanic for the past two weeks -- payback for six years of browsing, clowning and occasional buying since the first time he walked in, which was 10 days before his 12th birthday.
"My parents were getting me a pre-birthday present, and I got a complete skateboard," Moreno said. "It's always been a place to come in and loiter and have fun."
Copyright 2018 The Lawrence Journal-World. All rights reserved. This material may not be published, broadcast, rewritten or redistributed. We strive to uphold our values for every story published.