College Station, Texas — A granite and bronze memorial was dedicated Thursday in a grassy field at Texas A&M; University where a bonfire under construction collapsed five years ago, killing 12 young people.
"Their souls and bodies are not here, but the spirit they all shared is very much here," said Jerry Ebanks, whose son Michael died in the massive collapse of logs. "This will be a place for solace, for meditation and for remembering."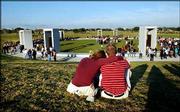 About 50,000 people attended the dedication on the anniversary of the collapse.
The 59-foot-high bonfire, a revered Aggie tradition before the school's annual football matchup against rival Texas, used a tiered stack of more than 5,000 logs. It collapsed in the early morning of Nov. 18, 1999.
Besides the 12 dead, 27 people were injured. Most of the victims were students. An investigation by a university commission blamed flawed construction techniques and lack of adequate supervision.
The $5 million memorial's centerpiece is a circle of 12 rectangular arches, one for each victim. The arches are connected by 27 large stones, symbolic of the injured.
The 16-foot-tall granite arches are positioned so that each faces the hometown of a victim. Within the arches are 12-foot bronze portals with a sculpted portrait and writings from or about each victim.
The 90-year-old bonfire tradition has been on hold since the collapse.
Copyright 2018 The Associated Press. All rights reserved. This material may not be published, broadcast, rewritten or redistributed. We strive to uphold our values for every story published.