Washington — A nearly 13 million-year-old ape discovered in Spain is the last probable common ancestor to all living humans and great apes, a research team says in today's issue of Science magazine.
A husband-and-wife team of fossil sleuths unearthed an animal with a body like an ape, fingers like a chimp and the upright posture of humans. The ancient ape bridges the gap between earlier, primitive animals and later, modern creatures.
This newest ape species, Pierolapithecus catalaunicus, is so significant that it adds a new page to ancient human history.
The researchers sidestepped a controversy raging through the field by not claiming their find moves great ape evolution -- and the emergence of humans -- from Africa to Europe. Salvador Moya-Sola, one of the Science paper co-authors, said the new ape species probably lived in both places.
"The problem is the fossil record," Moya-Sola said. "The fossil record in Africa, especially in the upper Miocene, is very scarce. And the fossils are very rare. But this is only a question of work, and work, and work."
David Begun, a University of Toronto researcher who studies fossil evidence of human and ape evolution, said the Spanish find bolsters the idea that modern apes evolved primarily in Eurasia.
"There is no evidence in Africa, so you can always speculate they might have been there," Begun said. "I prefer to go with the evidence."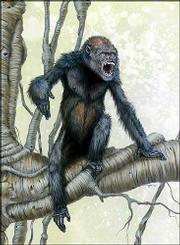 Coaxed by a reporter to say Pierolapithecus catalaunicus represented a "missing link," Meike Kohler, another of the paper's co-authors, demurred. "I don't like, very much, to use this word."
Kohler added: "This does not mean that just this individual -- or even this species, exactly this species -- must have been the species that gave rise to everything else which came later in the great ape tree. But it is, if not the species, most probably a very closely related species that gave rise to it."
Maybe. Maybe not, argues David Strait, an assistant professor of anthropology at the University at Albany who studies early humans. He said the specimen was "spectacular," but he worried the team's approach to assigning evolutionary relationships was a bit informal and needs confirmation by more rigorous methods.
"'Ancestor' is a loaded term. It's very hard to identify ancestors in the fossil record," Strait cautioned.
Copyright 2018 The Associated Press. All rights reserved. This material may not be published, broadcast, rewritten or redistributed. We strive to uphold our values for every story published.