The shattered storefronts of two Lawrence businesses were being fixed Thursday after a police chase that ended when a driver launched his car through the front of the J. Gladman Gallery, 1401 Mass.
Police said they began chasing the driver, a 30-year-old Kansas University student, about 12:10 a.m. Thursday after he threw a rock through a window at The Bottleneck, a bar at 737 N.H., sped away and began running stop signs. They arrested him on suspicion of drunken driving, fleeing to elude police, criminal damage to property and several traffic offenses.
"I'm glad he hit the front of my building instead of hitting some college kid," said Dave Hamill, the building's owner.
Police identified the driver as Martin J. Donaghy.
According to Bottleneck employees, problems started when he began asking for free drinks and claiming to be a member of the band Truck Stop Love, which had played a reunion show Saturday night at the bar.
The claim had a grain of truth: Donaghy played guitar in the band for about a year in the early 1990s, drummer Eric Melin said.
Still, bartenders told him he couldn't get free drinks. He made obscene gestures and cursed at them, so they ordered him to leave, employees said.
"He smelled like whiskey," said bar employee Adam Taylor, who escorted him to the door.
Moments later, they said, Donaghy pulled his Chevrolet Corsica up in front of the bar, got out and heaved a 10-pound landscape rock through the front window. The rock caused about $1,500 in damage.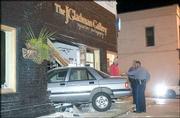 Taylor said he grabbed the side of the man's car trying to either open the door or get in the window but was thrown off as the man sped away.
Sgt. Dan Ward, a Lawrence Police spokesman, said an officer at Ninth and New Hampshire streets saw the car's headlights were off and saw it run a stop sign. He said the officer turned on lights and sirens and tried to stop the car, but it kept speeding.
Donaghy went west on 11th Street and then south on Massachusetts Street, Ward said. He tried to turn west onto 14th Street but turned too wide, Ward said.
Mark Silver, who lives in the neighboring building, said he heard a tremendous crunching and crashing sound.
The car struck an antique grand piano in the front room of the gallery and pushed it into an interior wall. John Gladman, the gallery's owner, kept the gallery open for business Thursday.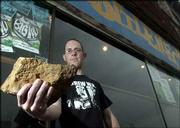 "The big step now is to get this place secure and make sure it's still structurally sound on the front," he said.
Hamill, said it appeared as if the driver aimed his car toward the building, because he apparently steered it between a light pole and parked car in front of the building.
Hamill estimated damage to the window and building at $10,000.
Police arrested Donaghy at the scene and took him to the Douglas County Jail. He bonded out Thursday afternoon and was ordered to appear Jan. 28 in municipal court.
Charges of criminal damage to property would be handled by the District Attorney's Office, but as of Thursday, Donaghy had not been charged in either district or municipal court. The Journal-World's policy is to not identify suspects until they've been charged, except in unusual circumstances.
-- World Online editor Dave Toplikar contributed to this report.
Copyright 2018 The Lawrence Journal-World. All rights reserved. This material may not be published, broadcast, rewritten or redistributed. We strive to uphold our values for every story published.