Kansas University defensive end Charlton Keith never has played against Missouri quarterback Brad Smith.
But he's seen him enough to know that the Tigers standout junior is more than capable of beating teams with both his talented right arm and fleet feet.
"Their quarterback is a great player," Keith, a junior, said of Smith, who was a preseason Heisman candidate before the Tigers fell on hard times.
And Keith should know what he's talking about. After all, he has been following Smith since their days of playing high school football.
"I know him from back at home in Ohio," Keith said.
Asked what he remembered about Smith, who played about 50 miles away at Chaney High in Youngstown, Ohio, the Akron native flashed a wry smile.
"He was the division's offensive MVP, and I was the defensive MVP," said Keith, who was named KU's defensive player of the week after recording four tackles for loss and two sacks Saturday against sixth-ranked Texas.
Keith and the KU defense no doubt will have to be on their toes again this weekend in Columbia, Mo.
Not only is this contest a rivalry game, but the Tigers need to win their last two games this year in order to become bowl-eligible. Plus, it's probably a good bet that Smith is thinking about a little redemption after being held to a career-low 95 yards of total offense in MU's lopsided 35-14 loss last season in Lawrence.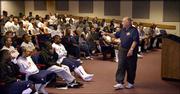 "Coming from another school, I know when a rivalry game comes up how big it is for the team," said Keith, who transferred from Minnesota West Community College last year after playing his freshman season at the University of Minnesota.
While Keith admitted he and Smith were merely acquaintances in high school, he said he hoped he could reintroduce himself to Smith on Saturday.
"No, I'm not going to talk into his ear or anything if I can get to him," said Keith, who also played AAU basketball with Mizzou wideout Sean Coffey, of East Cleveland, Ohio.
"After the game, I'll just let him know who I am."
Copyright 2018 The Lawrence Journal-World. All rights reserved. This material may not be published, broadcast, rewritten or redistributed. We strive to uphold our values for every story published.