EAST RUTHERFORD, N.J. — By the time the Seattle SuperSonics had improved the NBA's best record to 8-1, no more than 2,000 people remained in the arena.
Perhaps they were simply too stunned by the poor play to join the 10,000 folks who had the good sense to leave early.
Seattle played its worst offensive game of the season Wednesday night, yet still won its eighth in a row, defeating the New Jersey Nets, 79-68, in a game with little, if any, aesthetic appeal.
"I thought it was one of the ugliest games that I've ever been a part of," Seattle's Ray Allen said. "New Jersey just made us play an ugly game. Richard (Jefferson) came up to me during the game and said, 'Man this is an ugly game,' and I was saying we were playing ugly, too. He said, 'Yeah, but we made you guys play ugly.'"
Despite starting the first half 0-for-10 and the second half 0-for-8, the Sonics scored on seven consecutive possessions down the stretch against a Nets team that had more fouls (29) than field goals (26) and committed 23 turnovers.
Rashard Lewis scored 17 points, and Allen, Danny Fortson and Vladimir Radmanovic added 14 each as Seattle improved to 2-0 on a six-game, 10-day road trip.
"Coming in here back-to-back against New Jersey with no Jason Kidd had letdown written all over it," Sonics coach Nate McMillan said. "It was more of a gut check tonight."
Jefferson had 20 points, and Travis Best scored all 13 of his points in the fourth quarter for the Nets as they lost their fourth in a row.
Seattle began the night leading the NBA in three-point accuracy and ranked third in scoring, but those attributes largely were absent against an opponent ranked last in the league in offense and first in turnovers.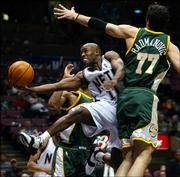 "Turnovers have pretty much been the story every game," Nets center Alonzo Mourning said. "I'm part of the story. I accounted for seven."
Warriors 98, Bulls 85
Oakland, Calif. -- Jason Richardson had 27 points, eight rebounds and four assists, and Golden State beat winless Chicago. Speedy Claxton added 14 points and 11 assists before fouling out late for the Warriors, who won at home for the first time in four games this season. Kirk Hinrich scored 15 points to lead the Bulls, who fell to 0-6.
Suns 95, Hornets 84
New Orleans -- Amare Stoudemire scored a career-high 38 points, leading Phoenix over winless New Orleans. The Hornets attempted only two foul shots, tying an NBA low and breaking the team mark they set Saturday night in Milwaukee when they took only three free throws. Cleveland also went to the line just twice on Nov. 26, 1994, against Golden State.
Pistons 93, T'wolves 85
Auburn Hills, Mich. -- Chauncey Billups scored 15 of his 21 points in the third quarter, and Detroit rallied past Minnesota. Billups, Ben Wallace and coach Larry Brown returned to the Pistons after absences. Billups missed the Pistons' previous game because of a sprained ankle. Wallace missed two games because of a death in his family.
Lakers 103, Clippers 89
Los Angeles -- Kobe Bryant had 23 points, six rebounds and a season-high 11 assists, Chucky Atkins scored 12 of his 17 points in the first 61/2 minutes of the fourth quarter, and the Los Angeles Lakers beat the Los Angeles Clippers. The Lakers took command by outscoring the Clippers 24-7 for a 95-78 lead with 5:43 left.
Grizzlies 101, Blazers 82
Portland, Ore. -- Bonzi Wells scored 25 points, and Memphis won on the road for the first time this season, beating Portland. Wells, a former Blazer known for his uneven temperament and inconsistent play, was peppered with boos throughout the game, which Memphis led by as many as 34 points. The Grizzlies, who started the season with four straight losses, have a pair of wins at home. But they had lost all three of their previous road games.
Heat 113, Bucks 106
Milwaukee -- Shaquille O'Neal scored a season-high 26 points, and Eddie Jones had 27 to help Miami defeat Milwaukee for their second victory over the Bucks in four days. Dwyane Wade added 18 points and seven assists, but just missed extending his streak of six consecutive games with at least 20 points. He fouled out with 1:11 to play and was called for a technical foul.
Nuggets 112, Raptors 106
Denver -- Carmelo Anthony scored 30 points, and Kenyon Martin added 24 points and 16 rebounds, helping Denver hold off Toronto. Denver overcame a slow first half by making 14 of 23 shots in third quarter and 30 of 34 free throws overall.
Pacers 93, Hawks 86
Indianapolis -- Jermaine O'Neal had 25 points and 13 rebounds to offset a dazzling performance by Al Harrington in Indiana's victory. Austin Croshere added 13 points, 13 rebounds and two electrifying dunks in the fourth quarter to help the Pacers. Harrington, who spent his first six seasons in Indiana before being traded in the offseason for Stephen Jackson, scored 30.
Magic 107, Jazz 92
Orlando, Fla. -- Grant Hill scored 32 points, his most in 41/2 years, and Steve Francis had 33 points and 11 assists, both season highs, to lead Orlando. Mostly shooting jumpers over Andrei Kirilenko, usually a dependable defensive stopper, Hill shot 13-for-18 in his best offensive performance since scoring 36 points against Minnesota on April 10, 2000.
Wizards 110, Celtics 105, OT
Washington -- Antawn Jamison scored 27 points, Gilbert Arenas had 25, and Washington shut out Boston for the first 4:47 of overtime. Jared Jeffries added a career-high 15 points in his first start of the season. He also blocked a jumper by Paul Pierce in overtime.
Copyright 2018 The Associated Press. All rights reserved. This material may not be published, broadcast, rewritten or redistributed. We strive to uphold our values for every story published.