Prague, Czech Republic — Rock music and stirring speeches by former dissidents echoed Wednesday through the streets of Prague as Czechs marked the 15th anniversary of the Velvet Revolution that ended communist rule.
But the mood was subdued, with many people feeling lost in the expanded European Union and disillusioned by 10 percent joblessness. Several hundred students even staged a re-enactment of the first 1989 protest march to express dissatisfaction with current problems.
Former President Vaclav Havel, the playwright who was a key figure in the anti-Marxist uprising, warned of a resurgence of communist ideology in the country he once famously dubbed "Absurdistan."
"It's not a good thing," Havel said as he laid a wreath at the site of a brutal police crackdown on demonstrators on Nov. 17, 1989, the start of unrest that quickly toppled communism in Czechoslovakia.
Recent polls show the Communist Party is supported by about 15 percent of people in the Czech Republic, which split peacefully from Slovakia in 1993.
Both countries joined the European Union on May 1, but their citizens are frustrated by a perceived loss of national sovereignty and a sense that, despite the remarkable transformation to democracy and a market economy, 1989's great expectations have not been achieved.
"I feel that what we believed and what we hoped for did not happen 100 percent," said retired engineer Frantisek Tesar, 72.
Spectators chanted "Long live Havel!" and reached out to touch the one-time dissident leader as they lit candles and left bouquets beneath large, grainy photographs of communist-era police in riot gear.
Havel's successor as president, Vaclav Klaus, reminded a special session of parliament how far the nation has come since shaking off the repressive regime.
"We live in freedom and in a stabilized democracy, and therefore each of us is the engineer of his or her own happiness to a degree unseen in the past," he said. "There would be nothing worse than to create new myths and make the past (seem) nicer."
Havel and several dozen lawmakers walked out of the chamber in protest when Communist Party leader Miroslav Grebenicek began a speech in which he contended that "people before November (1989) not only suffered ... but also lived and rejoiced."
As Czechs gathered in the rain for open-air rock concerts, British Foreign Office Minister Denis MacShane dedicated a "speaker's corner" in Prague modeled after the famed pulpit in London's Hyde Park, where people have ranted and waxed eloquent for decades.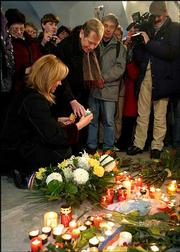 MacShane paid tribute to Czech dissidents, whose voices "echoed across the world when they led the call for greater freedom against Soviet tyranny."
Nov. 17, 1989, began with fiery speeches at a university campus in Prague, inspiring thousands of students to march downtown toward Wenceslas Square.
Police reacted forcefully, beating demonstrators with truncheons and injuring hundreds. Uncowed, crowds mushroomed into the hundreds of thousands over the ensuing days, with demonstrators taunting: "You have lost already!"
By Dec. 5, Czechoslovakia had a new government, and on Dec. 29, Havel appeared before a parliament still dominated by communist hard-liners and laid out his desire to be the country's first democratic president in a half century. Free elections followed in a festive atmosphere stoked by visits from rock stars Frank Zappa and Lou Reed, close friends of Havel.
Copyright 2017 The Associated Press. All rights reserved. This material may not be published, broadcast, rewritten or redistributed. We strive to uphold our values for every story published.